How to sign a card (tutorial)
An (updated!) step-by-step guide to the card signing process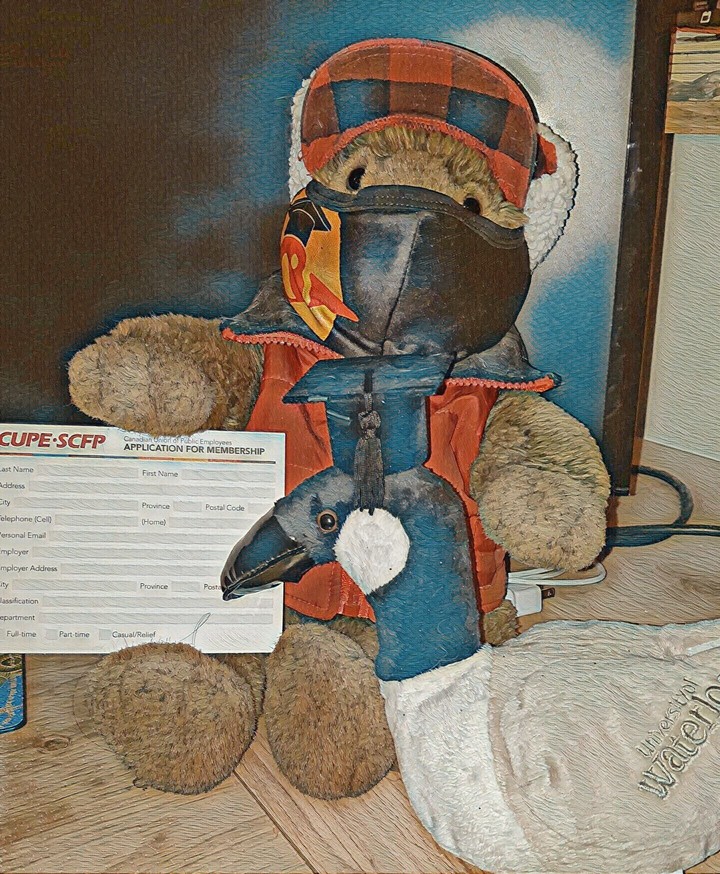 So, you want to sign a union card - excellent! We're so happy to have your support!! Signing a card is the single biggest thing you can do to support us. And indeed, it's the only actual way we can become unionized at UW!
TL;DR Card Signing Guide
Fill out the sign-up form: Open the form on our website ( click here for TAs/RA sign-up form) and complete all the requested information including both your personal email (non-UWaterloo email) and your UWaterloo email. We will not use your UWaterloo email to contact you about your union membership. All your information is confidential. Once completed, click "submit". Note that this is not the union card itself, but is a necessary step to verify & track members in our confidential database.
Fill out your card: A card will then pop up on your screen. Complete all the requested information. This multi-step process is necessary for compliance with the union certification process in Ontario. All your information remains confidential. Once completed, draw your signature, and click "Apply". Then enter the date and select "Click to Sign".
Confirm your card: Last step! Enter your personal email address (non-UWaterloo email), then "Click to Sign". Check your personal email's inbox for a message from "Adobe Sign" and click "Confirm my email address". This final step is very important and your OrganizeUW card isn't valid until this last step is completed.
---
Table of Contents
Step By Step Card Signing Directions
Signing a card is super quick - it should take less than five minutes! The goal of this post is to answer the most common questions we get from students and potential union members about how best to fill out the fields in the Sign-Up and Application for Membership form, as well as to assist anyone having difficulties with the process.
Two key points to be aware of – if you don't read anything else below, read these!
The Sign-Up form is not the union card itself. Filling out the online form on our website is the first step; once you click "Submit", a digital PDF of the Application for Membership form (i.e. the official "union card") will be generated. After you fill out, sign, and submit your card using Adobe Sign, the last step is to verify your email address. Later on, you should also receive a final copy of your signed card to the email provided.
If these steps aren't all completed, your card may not officially "count" with the Ontario Labour Relations Board (OLRB) towards our goal of signing up 40% of UW graduate and sessional/adjunct workers at UWaterloo. The OLRB regulates this process, and CUPE has worked hard over the past months to push OLRB to simplify and reduce the steps involved. We apologize for any inconvenience the remaining steps may cause, and stand by, ready to help! If you experience any issues and want to double check if your card is valid/complete, please reach out to us and a student organizer will be glad to check for you! Alternatively, you can repeat the process with a new card; organizers will see and remove any duplicates.
Step 1: Sign-up
A. Go to sign-up page
Go to this link for TAs & RAs, or click the black and yellow "Sign-up" button in the top right corner of the OrganizeUW website, or the red and white button on the OrganizeUW homepage.
B. Fill out web form
Fill out the fields in the online form. First Name and Last Name are required, as is providing an email address where we can send the confirmation that you have signed your digital card.
Form field tips/info
Information/advice on how to fill out the form fields, in the order they appear:
Name: the name(s) you customarily go by. If your legal name, the name UW has on file for you as a student or employee (e.g. in Quest, Workday), and/or the name you use day-to-day do not match one another (or you're in the process of changing your name), please enter here the name you use/prefer in your daily life, even if it's not "official," and refer to the next section about what to enter for Name in Step 2 on the Application for Membership form.
Gender pronouns: the pronouns you use/prefer, e.g. she/her, he/him, they/them, xe/xem. Optional but recommended field, so we can be sure to refer to you correctly in any interactions.
Mobile phone number: a phone number where you can receive calls or texts. Extremely helpful as a backup contact method for organizers and/or CUPE clerical to get in touch with you to resolve any issues with your card, and therefore ensure it will be counted by the OLRB. This info will also be used to contact you regarding the final vote on unionization.
Personal email: an email address to receive confirmation your card was successfully signed/submitted, after it's verified. Non-UW email is strongly recommended, as we've had reports of card emails sometimes being filtered out by UW's email system – we want to make sure your card is properly finalized and recognized by the OLRB! 🙂 Plus, there's the added bonus of protecting your privacy, because email accounts provided by UW/the employer are their legal property, subject to their Terms of Use, and not fully confidential.
Work email: Your University of Waterloo email adress, if not already entered as your personal email.
Student status: whether you're an international or domestic graduate student, or not currently a graduate student at UW.
You can read more about the information we collect and why, how it's used, and how your privacy is protected in our FAQ here.
C. Check and submit
Once you have filled out and checked over the form, click the light green "Submit" button to go to the next step (Application for Membership).
Please double check that you've provided your email before clicking "Submit," as it's necessary for digital union cards! (the form doesn't technically require it so that paper cards for people without emails can still be entered).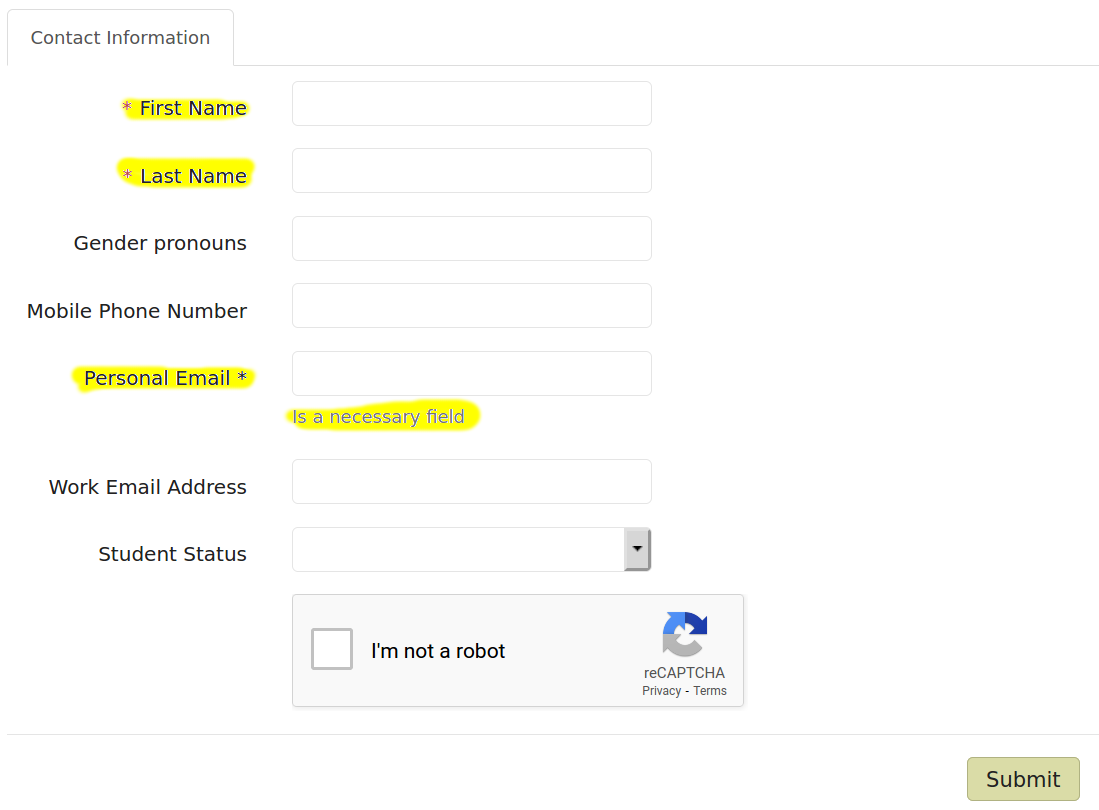 Step 2: Union card
Next you'll be redirected to the Application for Membership Card form, which is the official "union card." The Ontario Labour Relations Board (OLRB) requires the use of Adobe Sign software to sign and submit digital union cards.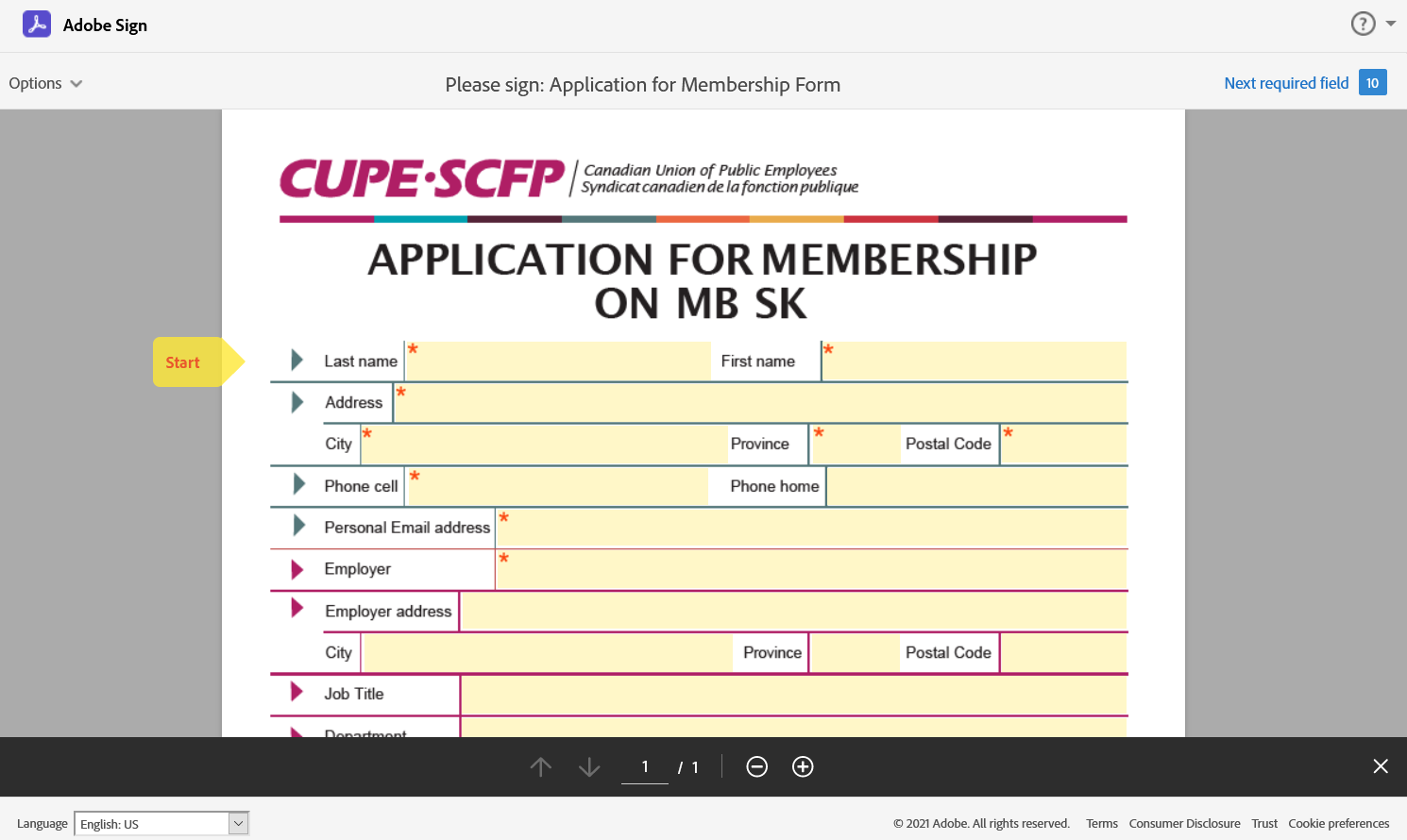 Adobe Sign demo video
Here is a handy 2.5-minute video demonstrating the Adobe Sign process.
Read on for advice/information for filling out the specific form fields in the union card.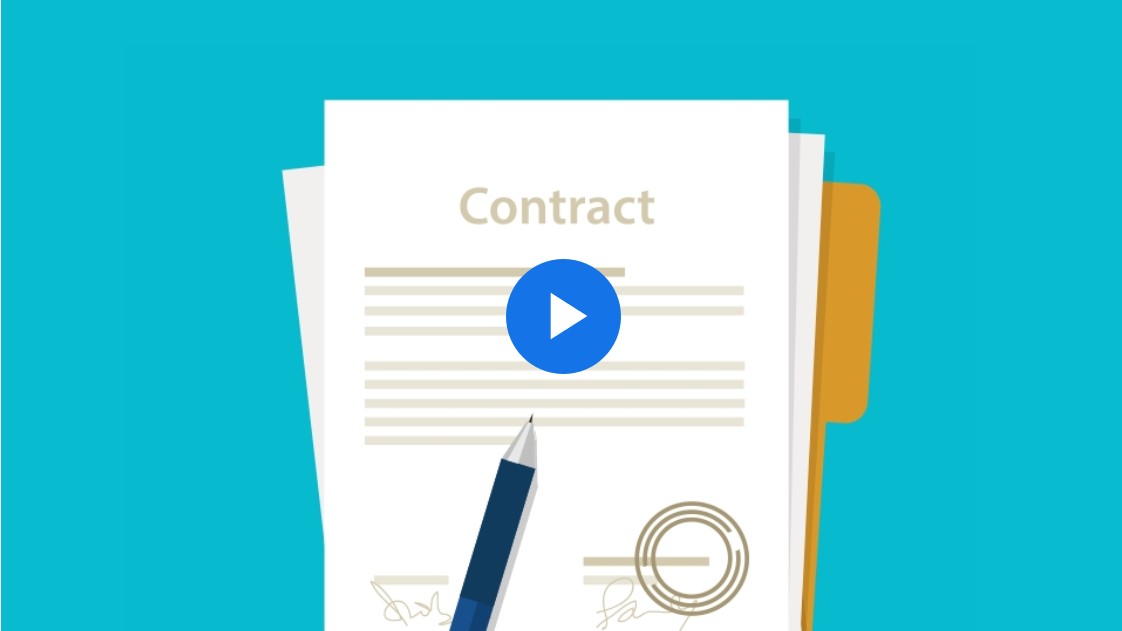 A. Fill out digital PDF
Fill out all fields in the digital PDF card to the best of your ability.
Form field tips/info
Name: It's best to identify yourself on the Application for Membership form how you're known as an employee/student at UW (i.e. in Quest, Workday), since it's an official document where you're applying to join the union (CUPE). For most people this correspond to your full legal name, but we know this is not always the case. If in doubt, it's better to provide more info rather than less (e.g. if you go by your second/middle name, enter both it and your first name). We'll refer to you in any interactions by the name on your Sign-Up form (see Step 1, above).

Note if you're trans and/or in the process of changing your name: For this form, we want to reaffirm it's 100% your choice as to the name you prefer to enter; you can decide to use your new/correct name, prior name, or both. The following explanations are FYI/context only. If it's anticipated that your name change process will take significant time to be finalized, this could lead to a mismatch later between our records and UW's when we file our unionization application to the OLRB. The purpose and process of matching up/verifying names is explained in this FAQ, but in a nutshell, the intent is to ensure validity of the card and eligibility of the signer. If such a delay is expected, and you want to reduce chances of a mismatch/help ensure your card will be recognized, you may wish to also provide your prior name on the Application form/union card. If you prefer not to do so, you can privately email us, and we can work with you to make sure that at the time of filing your official card matches your employee file at UW. In the meantime (and regardless) we'll always refer to you according to your name on the initial Sign-Up form; this way we can help ensure your card is counted while making sure we respect the name you use day-to-day. One last note - UW never sees the names of who signed a card.

Address: your current home or preferred mailing address. However, it's not recommended to enter a "work" or UW campus/office address. If you move frequently and have a "permanent" address (e.g. of your parents), please enter it.
Note: you don't need to be located in Waterloo Region to be eligible to join the union.
Phone cell: see "Mobile phone number" under Step 1, above.
Personal Email address: see "Personal email" under Step 1, above.
Job title: the current, usual, or expected job position(s) you hold, or will/may hold within the next year, e.g. Teaching Assistant (TA), Research Assistant (RA), Sessional Instructor, Adjunct Professor, Post-Doctoral Fellow, etc. For more information about eligibility, see this FAQ.
Faculty: the faculty that your "home" academic unit is part of. Currently, the Faculties at UW are: Arts, Engineering, Environment, Health, Math, and Science.
Department: the "home" academic unit (i.e. department, school) where you're primarily enrolled and/or you work/teach. If you study or work in multiple areas, you may enter them all. If you're located in an affiliated institute (e.g. IQC, PI), please also provide your home academic unit (e.g. Physics & Astronomy, Computer Science), if applicable.
Important: Please provide as much information as possible. This is vital because the official card will be used by the OLRB to verify the identity and eligibility of everyone who signs, and thereby to protect the integrity of the unionization process. The list of who signed a card is confidential and protected by law; it will never be disclosed at any point to the employer (UW).
The OLRB needs to be able to confirm that a) cards were actually signed by the people named, and b) to check these names against a list of eligible employees, which UW will be required to send to OLRB after we file our application. This verification is key to OLRB determining if we have collected enough cards to meet the legal threshold to trigger the final Vote, as well as to determine who will be eligible to vote.
Filling out your card fully and completely not only helps ensure your card will be counted and that you get to have your say in the final vote (subject to eligibility), but also that we have a fair and proper unionization process for everyone😊
B. Sign and submit
After you've filled out the upper portion, please read through and make sure you understand the Declaration (if you need more information on dues, see this FAQ. If you have further questions you would like to discuss before signing, please don't hesitate to get in touch!).
Next, click in the signature field at the bottom left where it says "click here to sign." Choose "Draw", draw your signature, and click "Apply." Then enter the date and select "Click to Sign."
If you experience technical difficulties, you can click the (?) button in the top right of the screen to access Adobe's help resources.
Once your signature is ready, click the blue "Apply" button to add it to the PDF. If you need to change it, hover over the field again and click once it says "Click to change."
Finally, once you've finished signing the card and checking everything over, click the blue "Click to Sign" button at the bottom of the screen, to the right below the "Date" field. Enter your personal email address (non-uwaterloo email) and press "Click to sign."
Step 3: Confirm your card / Verify your email
Last step! Within a few minutes of submitting the Adobe Sign form, you should receive an auto-generated email from < adobesign @ adobesign.com >, with the subject line "Please confirm your signature on Application for Membership Form."
If you don't receive the email fairly quickly, please check your junk/spam/updates folder. You may want to add the above email address to your "safe senders/contacts" to help ensure you get the final copy of your card.
Click the link that says "Confirm my email address." A new browser tab should open with a green confirmation banner that says "Your e-signing of Application for Membership Form has been verified. It has now been emailed to the additional signer(s) for their signature."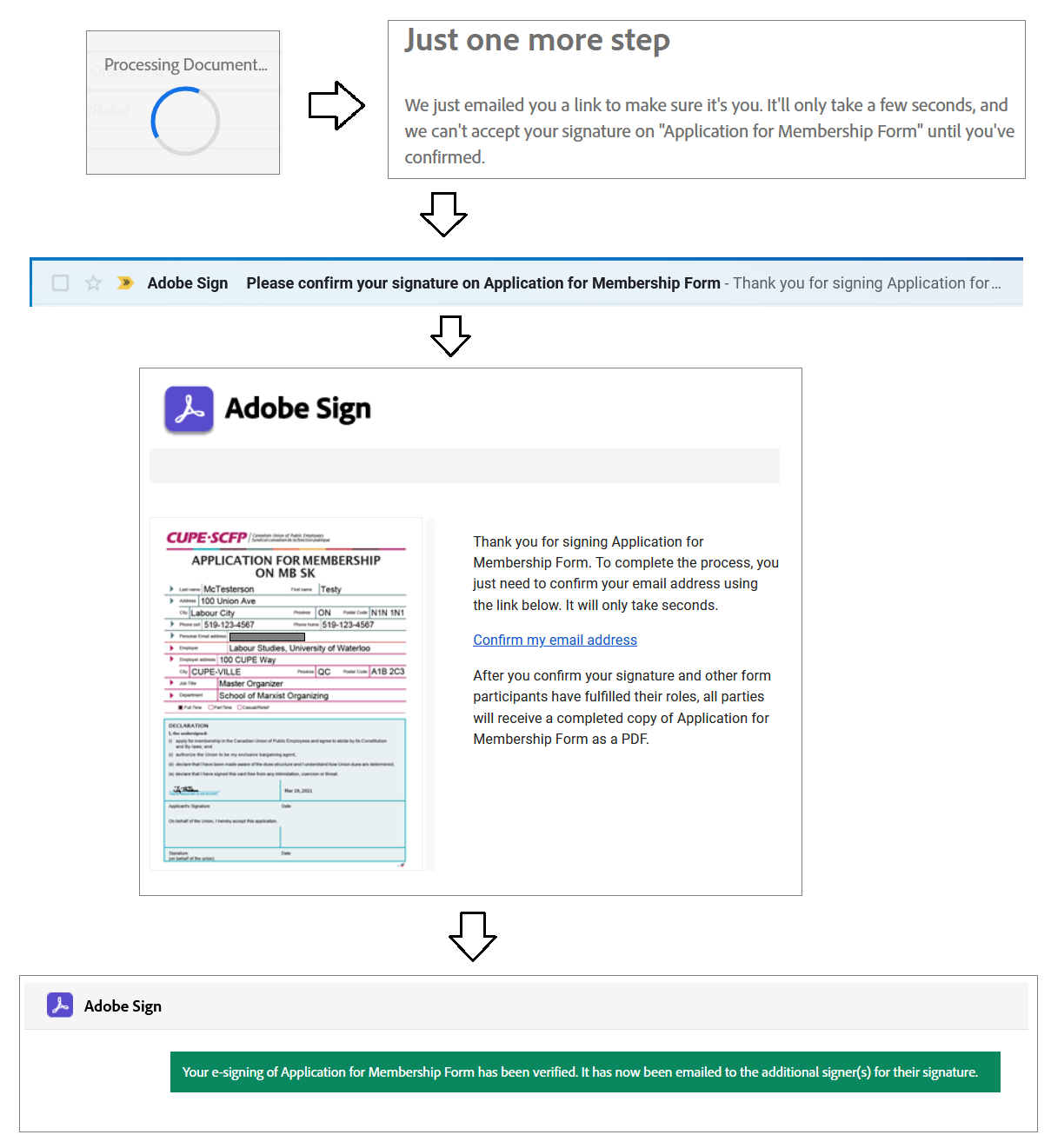 👏Voila! You signed your card!🥳
💃🤝📃 Yay! You're all finished signing your union card! 😎🎓🦆
From all of the student and sessional organizers at OrganizeUW – Thank you so much for your support! We couldn't build our union together without you.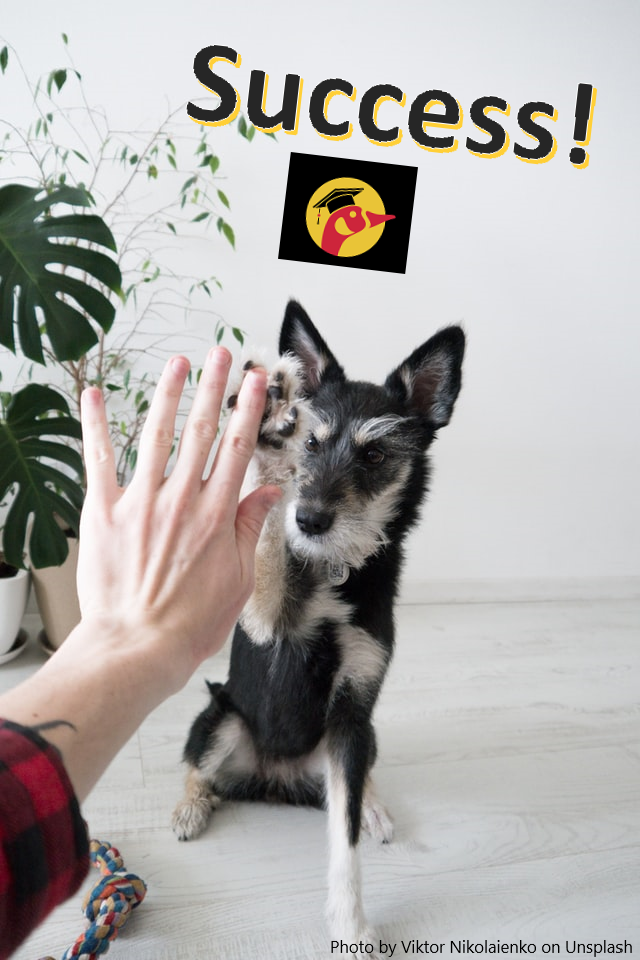 Bonus: Your copy of the card!
As indicated in the green verification message shown above, technically for a union card to be legally finalized, there needs to be two signatures, yours and a CUPE staff person signing on behalf of the union drive. Once CUPE has signed, you should receive a final confirmation email with a copy of/link to the PDF card, signed by both parties, for your records. The subject line will begin with "Completed: "Form…."
It may take a couple of days to arrive, but don't worry! Some manual processing time is needed for CUPE staff to sign off on the cards.
This is why we call it a bonus step - because as long as you completed your signature on the card and verified your email, you're good to go!
---
Have questions? Need help?
Here are some relevant FAQs for if you still have some questions:
If you experience any technical difficulties, need help with accessibility, or have reason to think your Sign-Up form or official card might not have been properly submitted/finalized (e.g. no verification email, website crash, Adobe Sign issue), please contact us and an organizer will be glad to assist in resolving any issues.
Similarly, if the information you submitted on the Sign-Up form has now changed (e.g. address, phone), we can easily update it for you if you reach out. Alternatively, you can always repeat the process by filling out and signing a new card; organizers will see and remove any duplicates (if you do this, and it is your email or name that have changed, please let us know so we can link the new record properly and delete the old information).
---
What now?
Thanks for reading! Now that you've signed your card, you might be wondering what you can do to help our drive succeed, so we can form our union at UWaterloo and secure protections and improvements to working conditions that will bring us (more) in line with every other university in Ontario.
The biggest thing you can do is to talk to your friends, colleagues, and classmates about the union and ask them to sign cards too. If everyone who signs succeeds in getting 2-3 more people to sign up, we'll be unionized in no time, through harnessing the power of exponential growth!
You'll find some tips here about how to stay informed, spread the word and get to know us.
In Solidarity,
OrganizeUW