How to sign a card (tutorial)
A step-by-step guide to the card signing process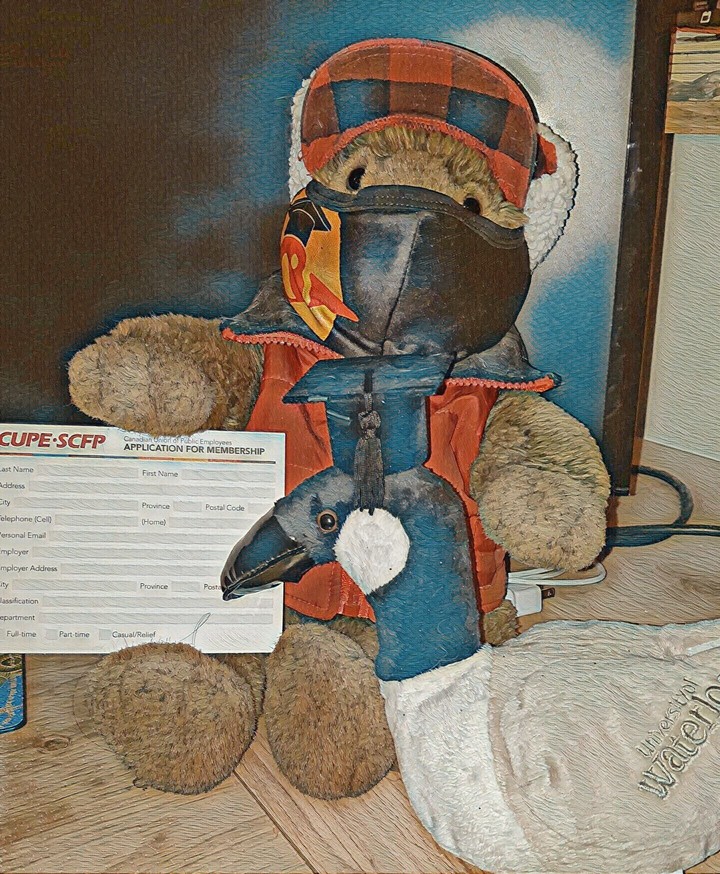 So, you want to sign a union card - excellent!! We're so happy to have your support!! Signing a card is the single biggest thing you can do to support us. Indeed it's the only actual way to become unionized!
Overview - A two-part process
Signing a card only takes a couple of minutes, but there are a few quirks to the process. This goal of this post is to resolve the most common questions and issues we hear, both about how to fill out the forms and the steps to sign the card itself.
A couple of very important initial points to be aware of – if you don't read anything else on the page, read these!
The sign-up form is not the union card itself. Filling out the online form via our website is the first step in a two-part process. This form serves as a card request that gets sent to CUPE's clerical (administrative) department. A CUPE staffer will then manually generate an email to send you with the official card, which gets signing using Adobe Sign.
If these steps are not all completed, your card will not officially "count" with the Ontario Labour Relations Board (OLRB) towards our goal of signing up 40% of UW graduate and sessional workers. The OLRB mandates this process – unfortunately we can't change it. We apologize for any inconvenience this may cause, and stand by, ready to help!
Table of Contents
1. Go to sign-up page
Go to this link or click the black and yellow "Sign Up" button at the top of this page in the website menu.

2. Fill in request form
Fill out the fields in the online form. You may wish to enter multiple faculties, departments, or schools, as applicable, and give your current, usual, or expected job position you will hold within the next year, e.g. TA, RA, Sessional Instructor, Adjunct Lecturer, Post-Doc, etc. At minimum, to receive a card we need your name and email address.
Important: Due to a technical website limitation, email address is not designated as a required field on the form. But we need an email to send you your digital card!
Tips/Info:
Non-UW email: we recommend providing a non-UW person email, since it makes sure the card doesn't get filtered out by UW's email filters (we have had intermittent reports of this happening), with the added bonus of protecting your privacy.
Backup contact: It is extremely helpful to provide cell phone, second email, or other secondary contact method so organizers can get in touch if there are any issues with your card. If we reach you, then your card may not end up counting!
Optional information: All other fields on the request form are optional. We include them since knowing more about who is signing cards helps us gauge progress towards our goal and better target our outreach efforts (we are a small, student-led, volunteer team!).
You can read more about the information we collect, why we collect it / how it is used, and how your privacy is protected in our FAQ here. Some more information will be needed at the next stage (see below).
Video of Adobe Sign process! (steps 3-6.)
To view steps 3-6 visually, check out this quick little video (only 2:35 long)! Then you can just skip down and consult the "Tips/Info" sections, which focus on aspects that are specific to this drive / our union cards.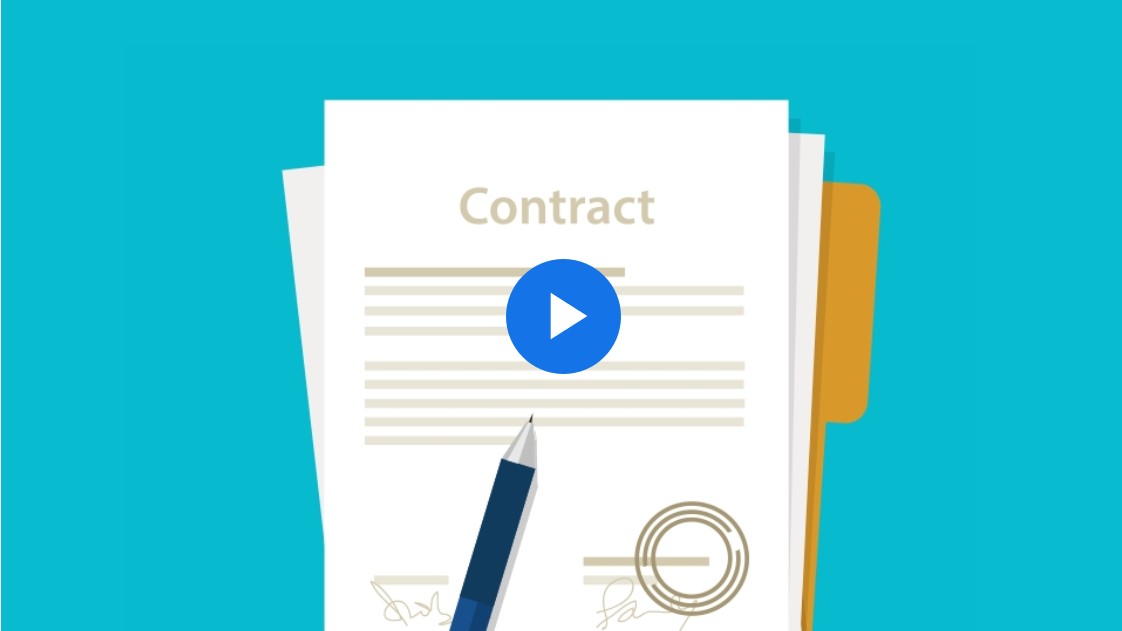 3. Receive PDF card by email from CUPE
Not long after filling out the online request form, you'll receive an email with the link to the digital PDF card. The subject line will begin with "Signature requested on Form…". Click the blue "Review and Sign" button in the body of the email to open the document.
Tips/Info:
Sender: the name varies, it may show a CUPE staffer's name or "Canadian Union of Public Employees" or something similar. The actual sender address will be echosign@echosign.com. Key: look for the subject line.
Junk mail: If you don't receive the email fairly quickly, please check your junk/spam folder. You may also wish to add the email to your "safe senders/contacts/address book" to help ensure you get the initial and confirmation email.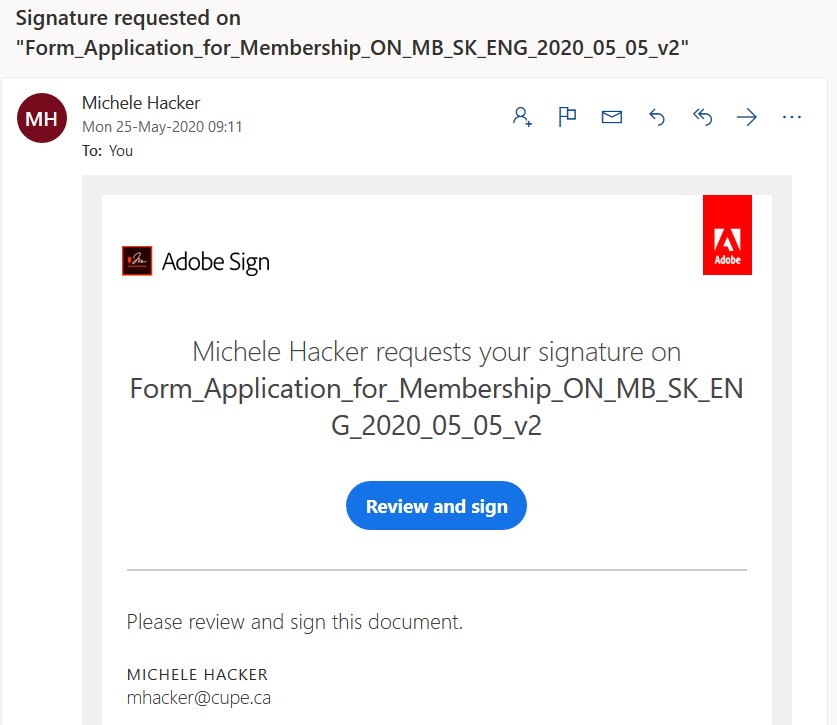 4. Fill out PDF card
Fill out all fields in the PDF card to the best of your ability.
Tips/Info:
Home address: you don't need to be in Waterloo Region. If your home and mailing address differ, mailing is better. If in doubt, choose the address in your student/employee record at UW, i.e. in Quest or Workday.
Employer: enter University of Waterloo, not your department, faculty, school, or institute. If you're not sure if you're employed by UW directly, check out our FAQ on eligibility and/or contact us. What matters is not the original source of your pay (e.g. a government grant), but who issues your final paycheque.
Employer address: enter the general address of the campus at which you usually worked pre-pandemic. E.g. for main campus: 200 University Ave W, Waterloo, ON, N2L 3G1. You don't need to specify which building, floor, or office (not least because we are almost all working from home anyway!)
Classification/department: please give both your academic unit (i.e. department, school, institute) along with your current, usual, or expected job position(s) you hold now or expect to hold within the next year, e.g. TA, RA, Post-Doc, Sessional Instructor, Adjunct Lecturer, etc. You may also wish to enter your degree/study program. If you study or work in multiple areas, you may enter them all, as applicable.
Hours: depending on the kind of work you do, select full-time, part-time, and/or casual/relief. Most student workers will be part-time, or sometimes casual/relief (e.g. occasional work as a proctor). If more than one applies, or you're not sure, check off as many (or few) as make sense for you.
Important: Please provide as much information as possible. This is important because the official card will be used by the OLRB to verify your identity and eligibility, and thereby protect the integrity of the process. They need to be able to confirm that a) you are who you say you are and b) you're an eligible employee at UW. The latter is key to OLRB determining if we have collected enough cards to meet the legal threshold to trigger the final e-Vote, as well as whether you will be eligible to take part! Remember: UW will not know who signed a card or not.
You can read more about the information we collect and why, how it is used, and how your privacy is protected in our FAQs here.
5. Sign and submit card with Adobe Sign
Click in the signature field at the bottom where it says "click to sign." Choose your preferred method of signing from the tabs, i.e. Type, Draw, Image, or Mobile. Follow the instructions for the chosen method to type, draw, upload, or use your phone to draw your signature. If you already have an Adobe Sign account you should also be able to use a pre-saved signature.
Once finished, click the blue "Apply" button to add the signature to the document, and then at the bottom of the screen there is a blue "Click to Sign" button.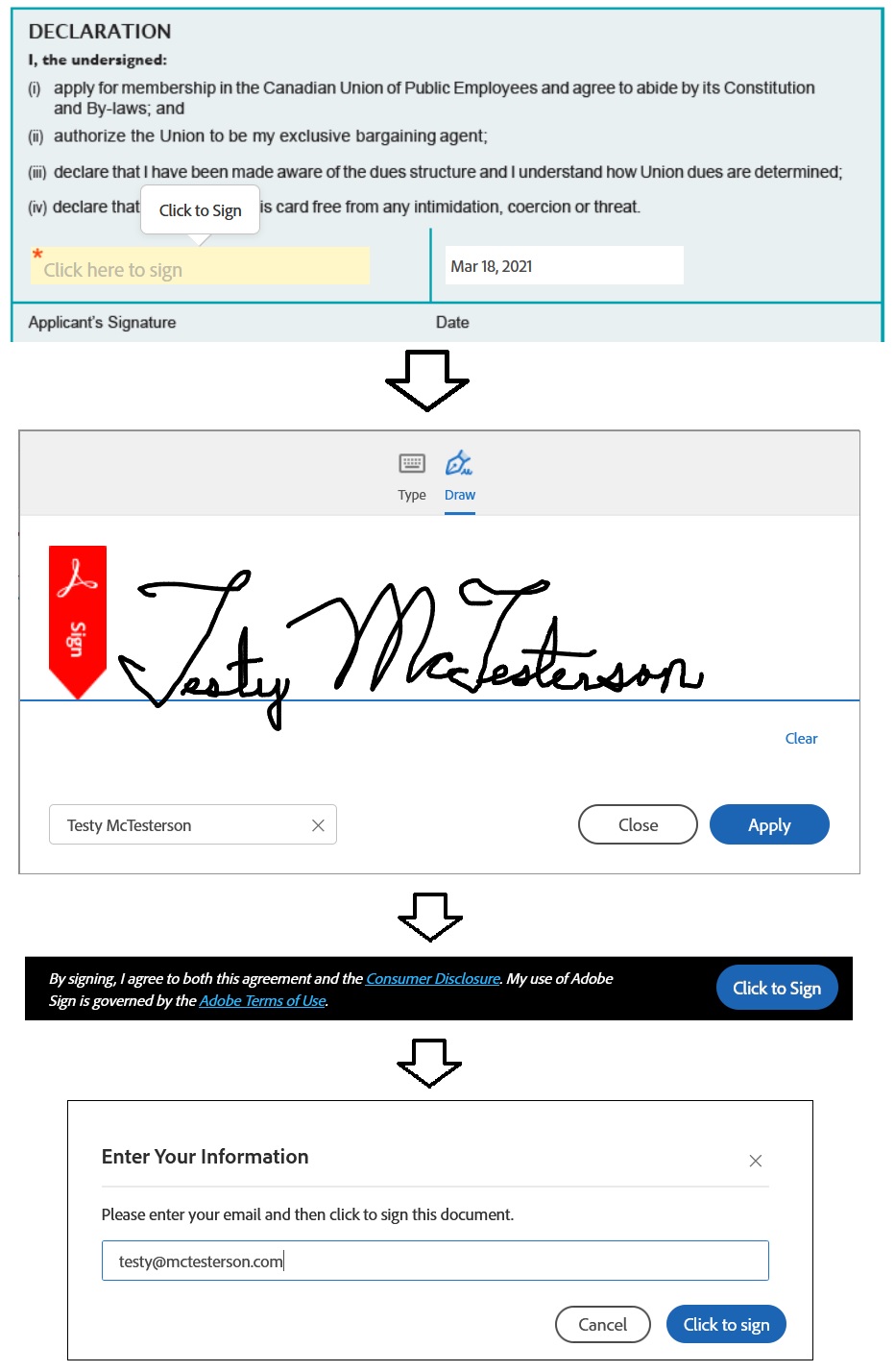 Voila! You've signed your card :)
6. Later: Receive confirmation email
For the card to be finalized, there needs to be two signatures. Once the other person has signed you'll receive a confirmation email with the final PDF card attached. The subject line will begin with **"Completed: "Form_…"**. If desired, you can click the blue "Open Agreement" button to view the finalized card, download it for your records, or just for fun, track it through the signing process, like a package from Canada Post (click "Activity").
Tips/Info:
Co-signer: The other signature will be from a CUPE staff person signing on behalf of the union drive.
Processing Time: You might not get the confirmation email right away, but this is nothing to be concerned about. Sometimes CUPE staff members get delayed (it is a manual process) and sign off on a bunch of cards all at once in a batch.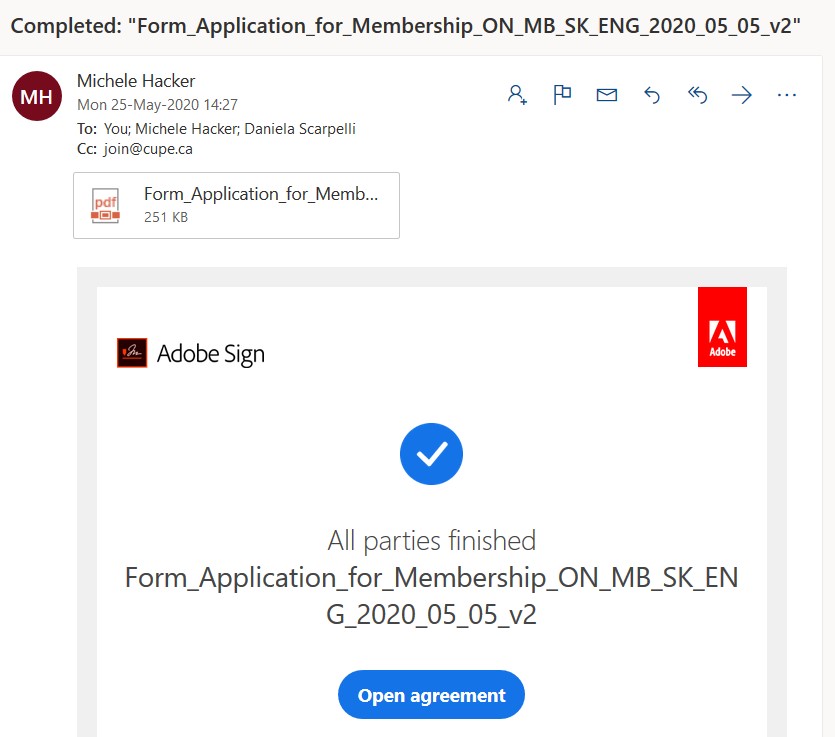 Why so many steps?
The OLRB requires that we use Adobe Sign to sign cards digitally. The Board is somewhat old-fashioned (have a peek at their homepage) and in fact digital cards only became possible in early 2020 due to a court decision (unrelated to COVID-19 - but lucky for us!). This is why the OLRB chose a more conservative solution like Adobe Sign.
So while it does have a few steps (and in the end, the cards are still all printed out and sent to them on paper - yes, really), nevertheless it's very secure and we are very grateful to have this option, without which we wouldn't be able to run the first ever large-scale, fully digital union campaign in Ontario (and likely Canada), and during a pandemic, to boot! We have worked hard to sort out early kinks, and now things seem to be operating quite smoothly (fingers crossed!).
It is important to note that even though we're able to use digital tools to aid us, OLRB's requirements mean that most steps beyond the first still involve manual processing, i.e. actual humans need to trigger the steps. The pandemic has also caused wide-spread, significant disruption in workplaces, which means a very heavy workload for CUPE supporting their members. This can cause some minor delays with emails, so we ask you to please be patient and understanding, and leave some time before inquiring about a delayed email, in particular :).
Have questions? Need help?
Here are some relevant FAQs for if you still have some questions:
If it's been a few weeks and you haven't gotten an email you should have, or if you have another reason to think your card request or card might not have been received or finalized (e.g. technical difficulties, website crash), please feel free to contact us and we will gladly check into it for you!!
Thank You!!