'I'm a TA... so what?' (Opinion|Imprint)
OrganizeUW makes the front page!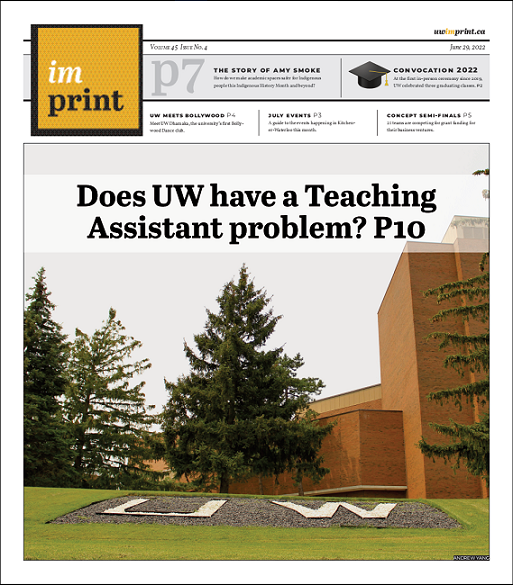 Hot off the press!
The newest issue of Imprint, UWaterloo's student newspaper, was just released, and OrganizeUW is on the front page! Three graduate student organizers – Sophia Sanniti, MK Stinson, and Nolan Shaw, PhD Candidates in Social & Ecological Sustainability, Recreation & Leisure Studies, and Computer Science, respectively – published an Op-Ed that discusses just a few of the myriad important issues facing teaching assistants at UW.
"Does UW have a Teaching Assistant problem?"
Imprint's headline asks this important question. Even though (spoiler alert!) you can probably guess the answer is yes, Sophia, MK and Nolan's piece is well worth the read. They show how issues around training, contracts, and employability significantly impact not only graduate students' personal educational and professional success, but also the quality of courses and support provided to undergraduate students at UW. Here's an excerpt:
The University of Waterloo has a Teaching Assistantship problem: TAs and their labour are not taken seriously. Currently, UW is the only university in Ontario without a union for its graduate student workers.

TAs fill a unique professional position. They are both students and educators. No other academic role falls victim to such unclear power dynamics and work expectations as much as graduate student workers. The problem with this duality can be summarised as follows: if TAs are just students, then TA work should prepare a graduate student for a career in academia. Conversely, if TAs are just workers, then they should have complete access to the benefits of any reasonable job: training, contracts, and transferable skills. Graduate student workers sit at the intersection of these two roles and suffer the worst of both worlds.

There are many issues. First, a lack of training and support undermines how effective TAs are as markers and educators and thus the legitimacy of a university's accreditation. Second, TA work is often integral to graduate student funding, rather than supplemental, meaning students can be vulnerable to sudden changes in pay, hiring, or responsibilities. Finally, TA work is not fully respected as legitimate work.

We spoke with an international student and PhD Candidate from the faculty of health, who articulated some of these problems:

"To be a Teaching Assistant at UW is often touted as a learning and skill-building experience that will benefit students when they enter a career in [either] academia or industry. Unfortunately, this often does not come to fruition for graduate students. As a TA, we are expected to manage, facilitate, and evaluate undergraduate students as they progress through their degrees. However, the skills needed to do this successfully are not provided to graduate students by UW."

TA work has provided little development of their managerial, leadership or instructional skills. Instead, this student relies on skills developed from years of industry experience.
Click here to continue reading! And if you support the drive, please consider sharing it with your friends, classmates, and colleagues; it'd be a great way to start a conversation about unionization, no? 😉
Lastly, a big thank you from all of the volunteers/organizers at OUW to Sophia, MK, and Nolan for all your hard work shedding light on the real-life experiences of graduate students TAing at UW, and of course to Imprint for the opportunity to publish this piece, as well as your editorial assistance. Stay tuned for future articles by OUW organizers in Imprint!
---
Wait, what is OrganizeUW?
OrganizeUW is a grassroots campaign to improve working conditions at UW for/by TAs, RAs, and Sessional Instructors. Here's how you can learn more!
check out our handy infographic on the unionization process (also available in Mandarin)
head to the FAQs to learn about eligibility, CUPE, dues, and much more, or to our series of video webinars on topics such as how unions help with health & safety, anti-racism, or environmental action
browse our blog for posts about mental health, international student issues, organizer interviews, a faculty Q&A, and more
drop in at OUW's weekly in-person social event, aka "Stammtisch". Come hang out and meet new people from across UW!
get in touch via email or DM to learn more, sign up to volunteer, share your story/ask for advice about a workplace issue, or discuss whatever else is on your mind!
follow @OrganizeUW on Facebook, Instagram or Twitter to stay up to date on the latest events, milestones, and union info
And last but not least - don't forget to sign your union card! Click here to sign as a TA/RA and/or Sessional Instructor.
Every small action adds up - by working together, you and your coworkers can make things better for academic workers at UWaterloo.