Introducing: Gizmo the Goose!
Our clever mascot finally has a name 🦆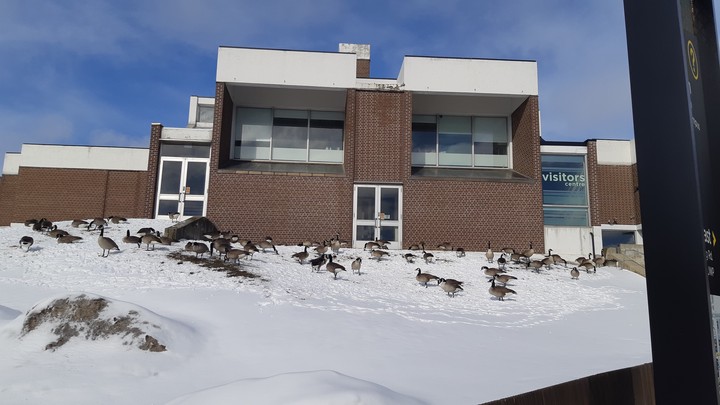 Channelling our inner geese
OrganizeUW is pleased to announce that our inimitable mascot finally has a name, now that our "Name The Clever Goose" contest recently concluded. We received 15 creative, thoughtful, and humourous suggestions from 10 graduate students, two undergraduates, one professor, and one staff member: From William McBruce the Scholarly Goose to Greyson, Goosey McGoose, Sir Honkulous, Mr. Knows it all, Untitled, Ganderson Cooper, Annie Armstrong, Canny-wu-Oie, Giles, WaterlooGooGoo, Mr. Goose, Lucy Goosey, and finally Mister iKnow – we had fun reading all of the names and justifications!
The submissions cite many reasons for the names. A few sought to channel unique aspects like ground-breaking women in the labour movement ("Helen Armstrong and Annie Buller are both women who played a significant role in Canada's labour union movements"); online culture and gaming ("The trouble-causing goose from 2019's indie game Untitled Goose Game became a leftist political meme"); and attention to linguistic diversity ("Oie - is a french word which means goose!").
"A unifying voice to advocate for us"
The common theme among all entries was that our goose is "intelligent," "sharp[-]witted," "shrewd," "knowledgeable," and "show[s] quick judgment," as well as being uncommonly "nice", with a good sense of humour (unlike the decidedly unfriendly denizens typical of UW's green areas). This seems to fit our goose perfectly; as together we try to use our academic and emotional intelligence to break new (labour) ground at UW; 'disrupt' the status quo to advocate for fairness, equity, justice, and more at work; and give students and sessional workers from all walks of life a voice through a democratic union structure.
Such a smart goose, according to participants, "needs the best name," something "catchy" and "unique" but also sufficiently "regal" and "classy." It should show a connection to UW and represent how OrganizeUW's union campaign aims to fill the "need [for] a unifying voice to advocate for us" across campus(es). With the help of innovative instincts befitting a UW-graduate-goose, we can work to bring people together who are currently "very loosely connected" due to university structures, the COVID-19 pandemic, workload demands, and more that serve to divide us.
Without further ado, we're excited to introduce you to Gizmo the Goose!!
Jessica, a part-time graduate student, submitted the winning name "Gizmo". She chose it because "it pays homage to Waterloo's strength in technology" and for its alliteration.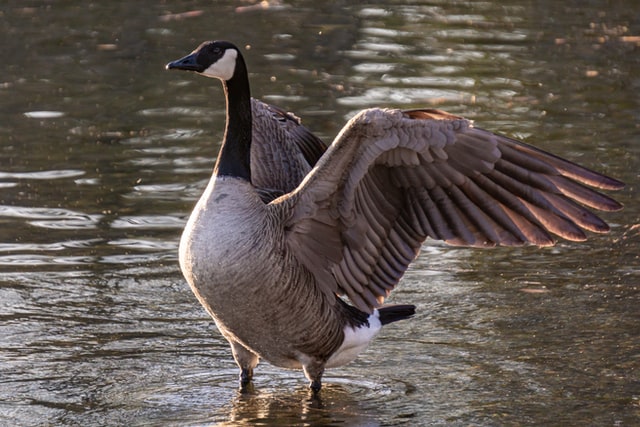 Why Gizmo? Because Gizmo gets it.
Graduate student organizers collectively settled on Gizmo because we felt it best channels the goose's cleverness, which was so nicely articulated by all of the entries as our mascot's main trait. Unlike most geese at UW, Gizmo is not only friendly, but knows that TAs, RAs, and instructors need a strong voice for fairness, better working conditions, and safety on campus (that's why hundreds have decided to join our campaign, supported by CUPE!).
We also liked that it is simple, catchy, unisex (we've always felt the goose did not have a specific gender), and has a pertinent connection to "innovation"; we hope that by getting UW to finally join our long-unionized peer schools, we can help ensure that the people who do much of the day-to-day labour of innovating at UW are properly protected, supported, compensated, and respected.
Graduate students' and sessionals' research, teaching, and service work is crucial to the excellence that can be seen in all areas at the University of Waterloo. However, right now we don't have a real seat at the table. Only by unionizing can we gain the right to negotiate with UW on a more even playing field; we deserve the chance join together, democratically determine our shared priorities, and bargain for a collective agreement based on them that will bring concrete improvements to our working conditions–and therefore our daily lives–at the university.
Thanks for taking part!
OrganizeUW has now contacted all entrants with instructions on claiming their prizes of masks and insulated coffee mugs graced by Gizmo's graceful visage, with which they can show your solidarity with the drive, keep their beverages hot, and stay safe during the pandemic.
Thank you to everyone who participated!
Want to learn more? Join our "flock"!🦆🤝🦆
Gizmo wants to make UW a better place to work for academic workers, but the wisest geese know it's best to travel in a flock! If you're a UW grad or sessional worker, you can click here to sign a digital union card. It only takes two minutes and is the single biggest thing you can do to help ensure our unionization effort succeeds!!
To learn more, check out our 2-minute guide to unionizing, FAQ page, drop by our weekly open video call, or message us to connect with an organizer. We host regular Q&A events too - to find out the latest follow OrganizeUW on social media, check our events page, or email us to subscribe to our newsletter.
Lastly, we're always looking for volunteers from across UW; there are many ways, big and small, that you can help! The biggest thing is to talk to a friend, classmate, or colleague about the drive; share the website or an article within your department/school/lab; tell us about your experience as a worker at UW; and much more. Let us know if you're interested in helping out - every little bit counts!