Support migrant students facing deportation: Nov 24 Migrant Students United (MSU) Day of Action
Tell PM Trudeau and Minister Mendicino: "Don't punish migrant workers for this pandemic!"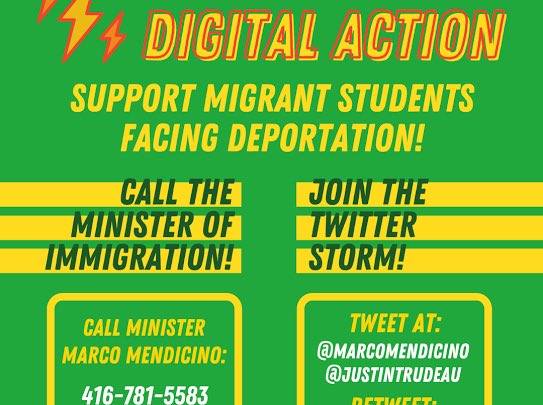 This information is being shared by our international student organizers. The grassroots student organizers of OrganizeUW stand in solidarity with MSU and are happy to share the info about these urgent events. International students are a vital part of our community at UW and in Canada as a whole, and will be a key part of our local once our union drive is successful. Please take action, if you can, to support migrant students.
International students need support!
Tomorrow, Nov. 24, 2020, students from Migrant Students United of the Migrant Workers Alliance for Change are holding a Day of Action.
Millions of people lost work and wages during COVID-19. But there's an added cost to migrant students. Without these jobs, they can't apply for permanent residency (PR). Now post-graduate work permits (PGWP) are expiring, and thousands of people are in crisis. They face deportation if PWGPs are not made renewable immediately. Migrant workers must not be punished for this pandemic.
"Migrant students are demanding:
(1) Make Work Permits Renewable, so we have more time.
(2) Value all work to count for PR, including part-time [jobs and those classified by government as "lower skilled", i.e.] NOC C & D.
(3) Real access to PR: Lower the Comprehensive Ranking System score.
(4) Unite Families, so our family members can get work permits.
(5) Status for All: All migrants deserve full and permanent status.
(6) Lower Tuition Fees & Universal Services: We want the same rights as everyone else."
Day of action
Here's what you can do to support migrant and international students:
Sign the petition to PM Trudeau & Immigration Minister Mendicino: bit.ly/migrantstudentsunited
Call the Minister: 416-781-5583, 613-992-6361 (script in Instagram post below)
TweetStorm: tweet @MarcoMendicino, @JustinTrudeau, re-tweet @MWACCanada

#LeaveNoOneBehind #MigrantStudentsUnited #RenewPGWP #StatusForAll #FixPGWP

Join the rally at 12 PM in Toronto at Minister Mendicino's office (511 Lawrence Ave W, Toronto). Covid-precautions in place. Click here for event details.
Share any of the above and/or another post from:
If you're an international student or ally and want to ask questions, share advice, strategize, or get involved, you can also join MSU's Facebook group.