Union 101
How do we get a union at uWaterloo?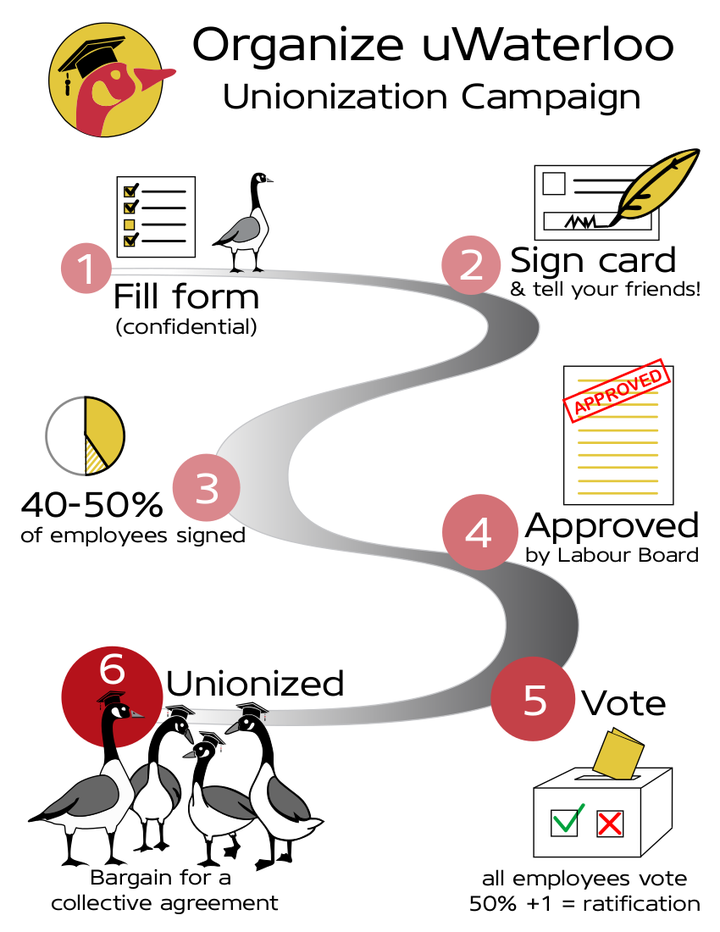 Available in Mandarin! 工会 101
Click here to request an electronic union card to sign right now!
Table of Contents
1. Set-up a union organizing committee (DONE)
The Committee to Organize uWaterloo is a grassroots campaign to unionize the academic workers at the University of Waterloo.
The committee reached out to the Canadian Union of Public Employees (CUPE) to support and resource the campaign.
2. Start card-signing campaign (DONE)
The card signing campaign is part of the legal steps to get a union started. Signing cards (paper and e-cards) is the only way we can signal to the Ontario Labour Relations Board that we are serious about unionizing.
3. Sign-up over 40% of the workers
The labour board requires at least 40% of workers in the workplace sign union cards showing their support for the union.
All cards are confidential and the university never finds out who signed a card.
4. File application with the labour board
Once we are well above the 40% mark, CUPE will file at the labour board for certification of the union.
The labour board will examine the cards to make sure that there are over 40% represented and set a date a week later for a vote.
5. The vote
The labour board will hold a vote for workers. Everyone who would be covered by the union is able to vote (could be in-person or electronic).
If over 50% vote "yes", we will be certified as a union.
6. Bargaining
CUPE will support us in establishing the local union and help us file to start negotiations with the university to get our first contract.
The local will elect a bargaining committee and a union executive at a membership meeting.
CUPE will launch a bargaining survey to receive feed back from the membership about priorities.
CUPE assigns us a Staff Representative (a CUPE employee) to help us start the union and negotiate the first contract. CUPE also has a dedicated researcher, communications, lawyer, education, and human rights staff to support our bargaining.
7. Ratification
The local will hold a vote on the proposed collective agreement that was negotiated between the union and administration.
The administration/Board of Governors (BoG) will also vote to ratify the collective agreement.
8. Enforcement of the Collective Agreement
The union will support the enforcement of the collective agreement using the mechanisms (such as grievance filing) outlined in the collective agreement contract. This will ensure fairness and accountability in the university following the agreed terms of the collective agreement.