Sessional Filing Announcement
An application to certify our union has been filed with the OLRB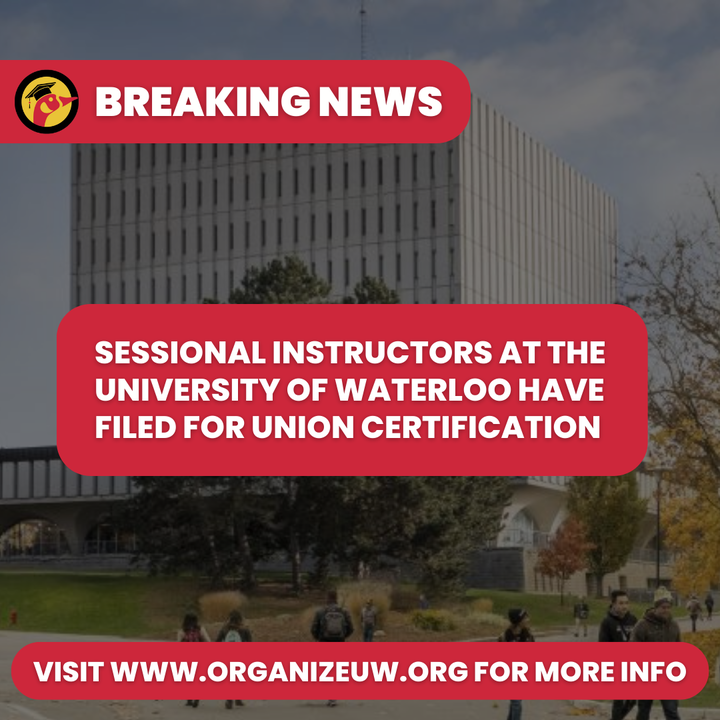 Breaking News!
The OrganizeUW Sessionals' union campaign has filed an application to certify our union at the Ontario Labour Relations Board (OLRB)!
We've exceeded the requirement of 40% of Sessional Instructors signing union cards, demonstrating loud and clear that Sessionals at the University of Waterloo want to form our union!
Sesssional Instructors at UW are unionizing for:
Employment security beyond the status quo of a single term
Full wages for everyone – no scholarship clawbacks
Transparent job posting processes
Annual wage increases
Health and dental benefits
Professional development
Basics like proper office space, materials & equipment for teaching
Respect for the innovative course syllabi; meaningful & inclusive education; mentorship & guidance; and cutting-edge pedagogies that Sessionals provide.
Now that our application to form a union has been filed, the OLRB will examine the cards to make sure we've hit the 40% threshold, and will then call for a vote among all eligible workers to certify our union. When more than 50% vote YES, we will have our union!
For more information on the unionization process, check out this post.
And, most importantly, STAY TUNED for the vote announcement. If you're a Sessional, your voice matters now more than ever! We're so close to the finish line. Get ready to vote UNION YES.