Better TA wages - #WhyNotWaterloo?
What difference does a union really make? Spoiler alert: a big one.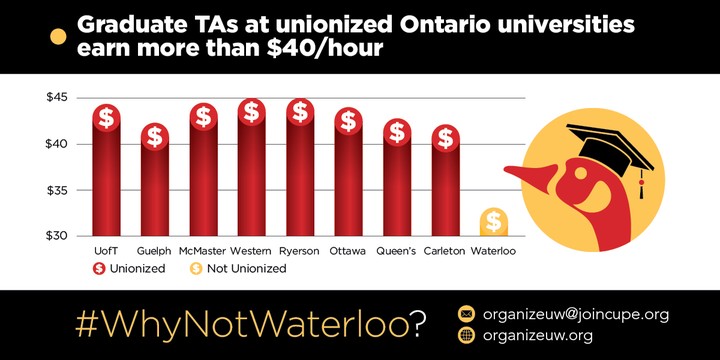 This is the first blog post in a new series inspired by the question "What difference does a union really make?" It will explore how working conditions at UW compare to other universities and give real-life examples of the concrete results unionization has brought. Check out other #WhyNotWaterloo? posts to learn more.
Did you know?
Graduate teaching assistants at almost every Ontario university earn at least $8 more per hour than we do at Waterloo. In fact, at $33.89, ours is the second-lowest hourly rate in the entire province!
Grad students at UW also work up to 160 hours per semester, often as a requirement for funding packages, and receive the remainder of our research funding through scholarships. This compares to 120-140 hour caps at other schools. Altogether this means students at UW earn approximately 25-35% less per hour and work 12-25% more hours per course. More work per funding dollar means less time for research and study.
In addition, UW fails to indicate that this net funding is not only contingent upon TA duties, but that roughly 40% of initial funding is clawed back through tuition fees. Funding may also be subject to further clawbacks if a student succeeds in earning an outside research grant, serves as a graduate sessional instructor (thereby working more hours teaching their own full course), or if the TA pay rate is increased while their overall funding package stays the same. This results in student workers being kept below the poverty line while living costs in the KW Region continue to increase. In addition to ever-rising tuition and fee costs, UW recently hiked international student tuition in the midst of a global pandemic.
Many departments discourage or prohibit grads from taking on additional part-time work off-campus to make ends meet, and there is no standard method at UW to track hours worked. This leads to a culture of overwork, with expected overtime or mandatory training often left unpaid. Students should earn a living wage, have reasonable work-life-study balance, and all work hours should be paid and accounted for. But this often isn't happening right now at UW.
But why not at UW?
Why are graduate students at Waterloo treated so unfairly?
The University of Waterloo is the only school in Ontario, and one of very few in Canada, where graduate TAs have no union. By voting to bargain collectively for their wages and working conditions, TAs at other schools have secured fair wages and lower hours, freeing up time to focus on their studies. And TA pay is only one part of overall compensation and working conditions. Timely pay, fair access to work, appropriate disability or other accommodations, a safe workplace, clear and transparent contracts, and adequate work spaces are all key to a productive and content worker. Only by forming a union together can we ensure legally binding labour standards that keep us protected.
Join us today
Together we can make UW a better place to work. In the face of austerity and continued economic instability, there has never been a more important time for worker protections. But we need your help to make it happen: it only takes a few minutes to sign a card, talk to a friend about the union drive, or share this article with classmates on social media*, in a group chat, or by email - every little bit counts! You can also contact us to learn more or get involved.
And stay tuned for more posts to come on what UW is missing out on - from extra health benefits and sick pay, to parental leave and support funds for unfunded (course-based) students, and everything in between.
#WhyNotWaterloo? #UnionsMakeADifference #OrganizeUW #UnionizeUW2020 #JoinCUPE #UniversitiesWorkBecauseWeDo