UW working conditions creating mental health crisis for graduate students (Story|insideWaterloo)
OrganizeUW calls out the University of Waterloo with new survey data suggesting graduate students are doing much worse now than before the start of the pandemic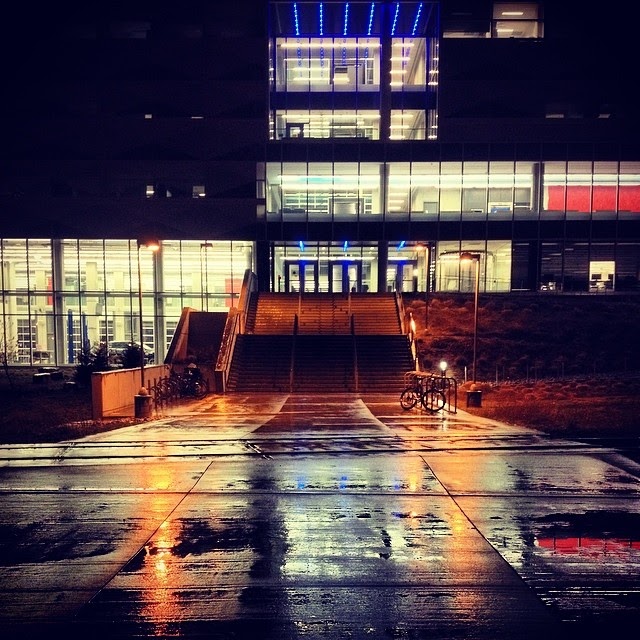 This post was originally published at insideWaterloo.
Another meeting, another email, another deadline. It was always difficult for graduate students to balance life and work before the pandemic, but COVID-19 has added new layers of stress.
To help deal with this, a prof in one of my lab meetings at the University of Waterloo suggested starting an online chat, where we could celebrate the little joys in life that distract us from work. In frustration, I asked, "How do we stop this from being another thing where I pretend my life is great? When is it ever going to be less?"
I'm not alone in feeling this way.
"I'm chasing from deadline to deadline without any breaks," Alice*, a fellow PhD student at the Cheriton School of Computer Science, told us in the same meeting. "I worry that if I stop, everything just falls apart. My mental health has really been suffering."
The university administration said, in a March email from Jeff Casello, the Associate Vice-President of Graduate Studies, that it is committed to "keep[ing] our wellness at the forefront of all we do" throughout the pandemic. The email reminded us of a two-day "scheduled break" in March, intended to "give the University community an opportunity to concentrate on their wellness."
Casello went on to acknowledge the "multiple roles" graduate students take on, but we have yet to see recognition from UW that TAs deserve real, mandatory breaks as workers. Instead, we were "encouraged to coordinate with course instructors to agree on due dates that allow for the graduate students to balance workloads with the opportunity to have an academic pause." The university, he wrote, hoped these conversations would be "collegial and productive."
"Sure, my conversations were collegial," Alice said. "I have great relationships with my supervisor and the course instructors I work with. But they were not really productive. Because having a break does not make my work go away. It will just be crammed into fewer days."
Scheduled Pause survey
OrganizeUW, the drive to unionize graduate students and contract academic workers, launched a survey to learn more about the effectiveness of the university's scheduled break and the mental health of graduate students.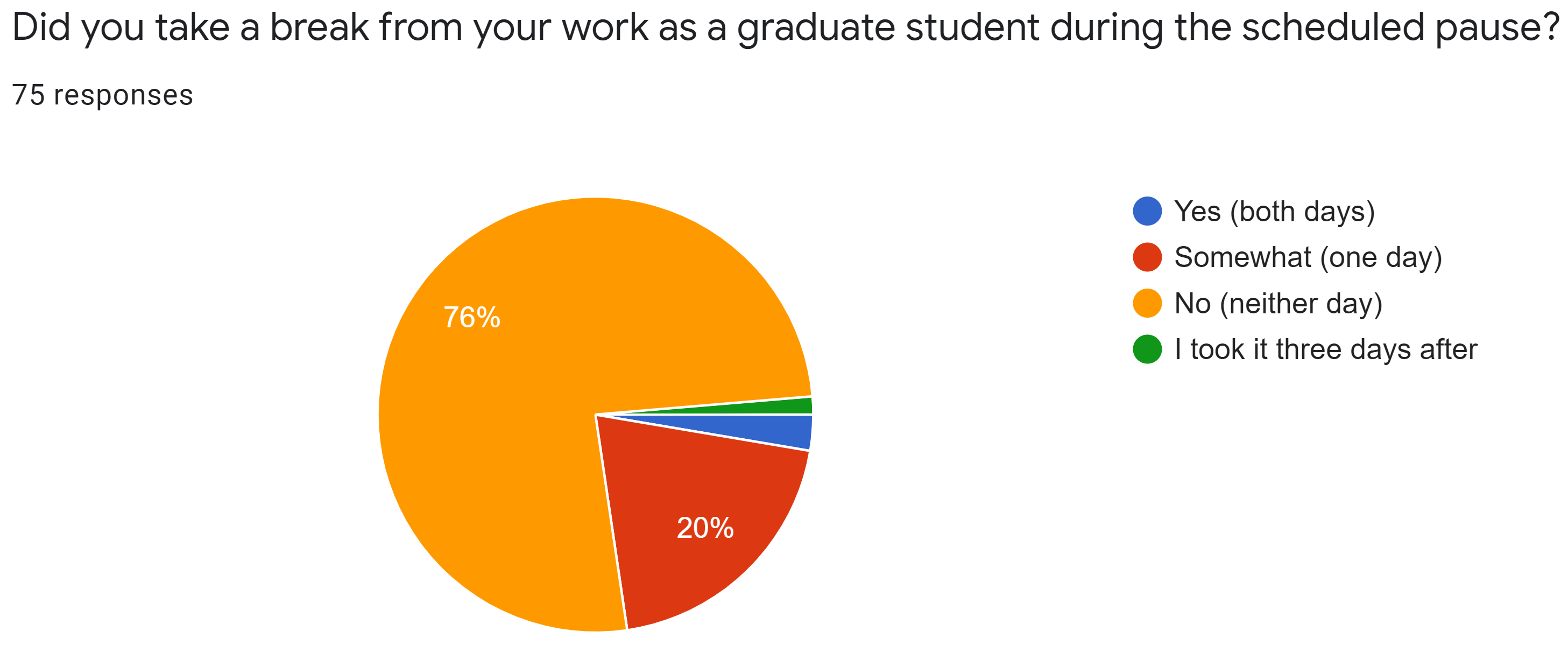 Besides Alice, 75 grad students participated in the survey (at least ten students from each faculty, and 22 were master's students). Of those who responded to our survey, we found that:
77% were working while in school (TA, RA, or other academic work i.e. instructor).
71% felt that the break did not have a positive impact on their personal well-being.
Less than 3% of students were able to take both days off. The vast majority felt they couldn't because of overwhelming pressure to continue to work.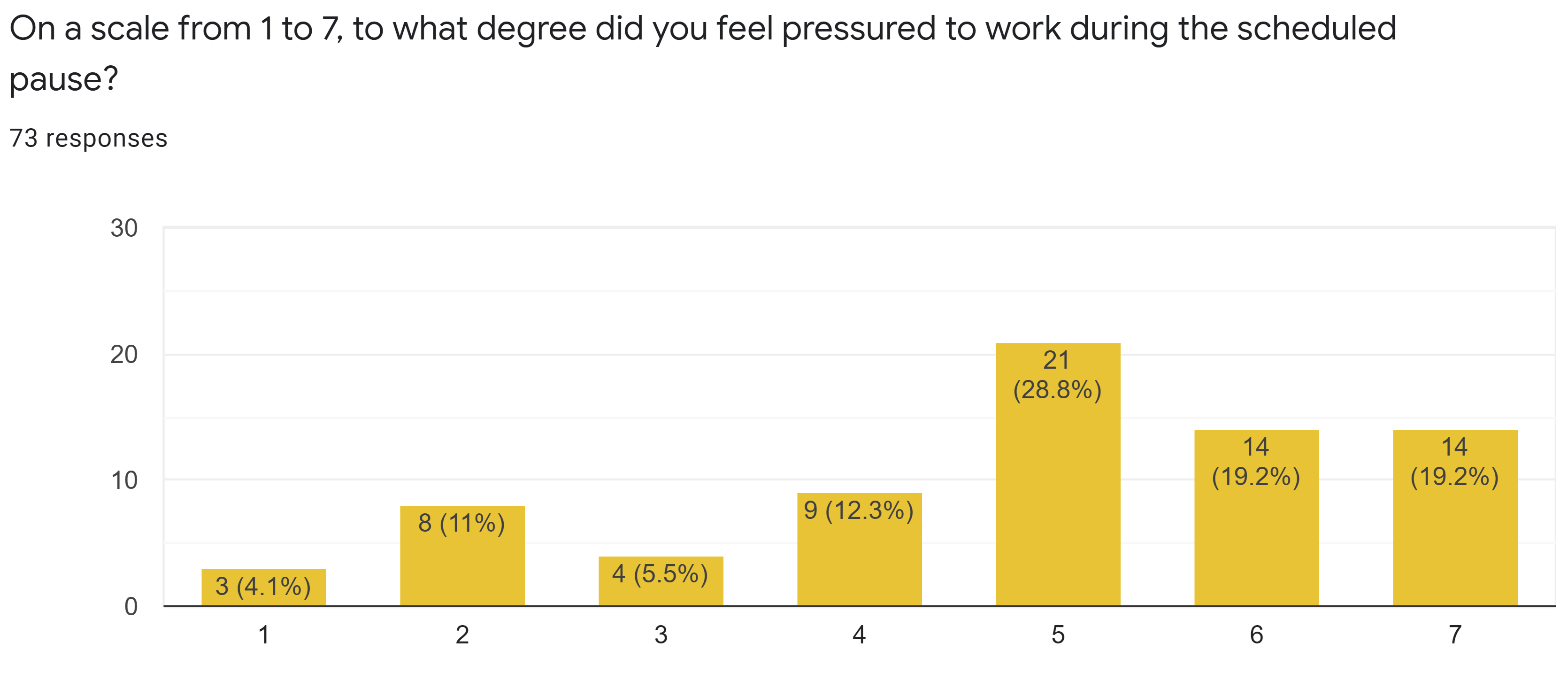 Meanwhile, the mental health of graduate students continues to worsen. Compared to March 2020, graduate students reported that they are doing much worse now than before the start of the pandemic.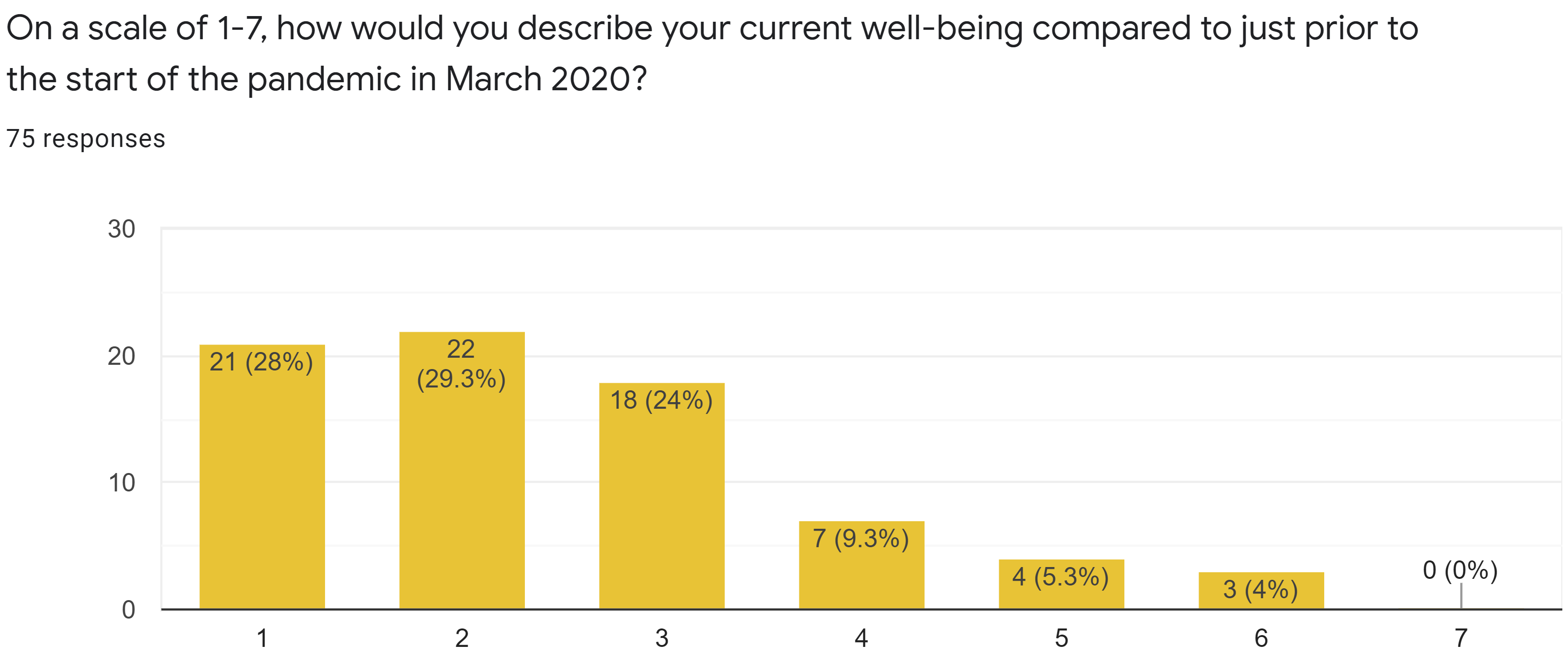 The survey also showed the pandemic and workload issues do not affect all of us equally. In particular, international students and students with disabilities are feeling even greater stress while others have the means or privilege to not have to take on TAs or RAs.
"I am disabled, so if I work too much, I feel musculoskeletal pain which is often accompanied by fatigue, sleep and mood issues. Once that happens, I obviously have to stop working," Alice said. "But is work stopping for me?" Between two and four percent of graduate students, mostly women, share similar challenges to what Alice faces from fibromyalgia.
When OrganizeUW asked students what the university could do to help with their well-being during the pandemic, the most popular suggestions were to ease financial worries and workloads by extending or suspending degree milestones.
The university has failed on both issues. The Student Emergency Support Fund provided only $500 and expired after May 31, 2020. Meanwhile, the deadline extensions provided by the university did not come with any funding attached. The result is many students simply cannot afford to take a break and deal with mental health issues.
From the very beginning of the pandemic, the university's maxim has been to maintain 'business as usual' and keep the funding structure as-is. The financial worries and pressure graduate students feel in trying to finish their studies within a rigid timeline is why many feel unsupported by the university, in either their research or other work. Students described the scheduled break as an "empty gesture," "lip service," or "performative empathy."
Even worse, the university often puts the onus back on the student to care for their own mental health. This transfer of responsibility creates a power differential, where students must rely on the goodwill of faculty and course instructors to get the break. What if instructors demand that students continue to work during this so-called "pause"?
When I asked Alice why she feels so much pressure to work constantly, she laughed.
"There are so many reasons. Sure, I want to be a successful researcher and I want to help create accessible technology. But honestly, the amount of work makes it easy to forget why I started my PhD in the first place. A lot of it is simply surviving. I am doing two [TA positions] to stay afloat financially."
Ultimately, it was stories like Alice's that led me to get involved with OrganizeUW, and work toward unionizing my fellow graduate student workers. There is a strong discrepancy between what the university says and what it actually does, and we can't fix the problem on our own. In order to negotiate successfully, graduate student workers need to work together with the support of a strong union that understands our unique challenges. Such changes include higher TA pay, better working conditions and health benefits, and mandatory breaks.
After we all cried in our lab meeting in March, we asked ourselves what we could do to make the situation better. It became quite clear to us that we as individuals could indeed do very little about our situation. Even worse, we originally had a presentation scheduled in our meeting. Since postponing this presentation would have cramped our schedules even more, we simply went back to work after an hour of crying. There was nothing else to do. Right?
*name changed under condition of anonymity.
---
What can I do to help?
If you are a grad student
If you are a prof
Talk to your students about their mental health, working conditions and unionization. We know that you are not allowed to endorse us, but we still want to hear from you: organizeuw@joincupe.org.
We know that you are as overworked as we are, that the university often makes it difficult to balance doing research with providing high-quality education to students, and that you often need to decide between your own mental health and the quality of your courses. Join us for a larger conversation on Twitter: @OrganizeUW
If you work for the university administration
You are not our enemy. The narrative around "stealing a larger piece of the cake" is a zero-sum game and a race to the bottom. It is false. We will always advocate for emancipation and dignified working conditions for every employee of the university.
If you have ideas how to make life better for everyone, talk to us: organizeuw@joincupe.org
---
Cover image: One of the engineering buildings at the University of Waterloo (Source: Emily C, CC BY-ND 2.0)