Help organize your fellow workers!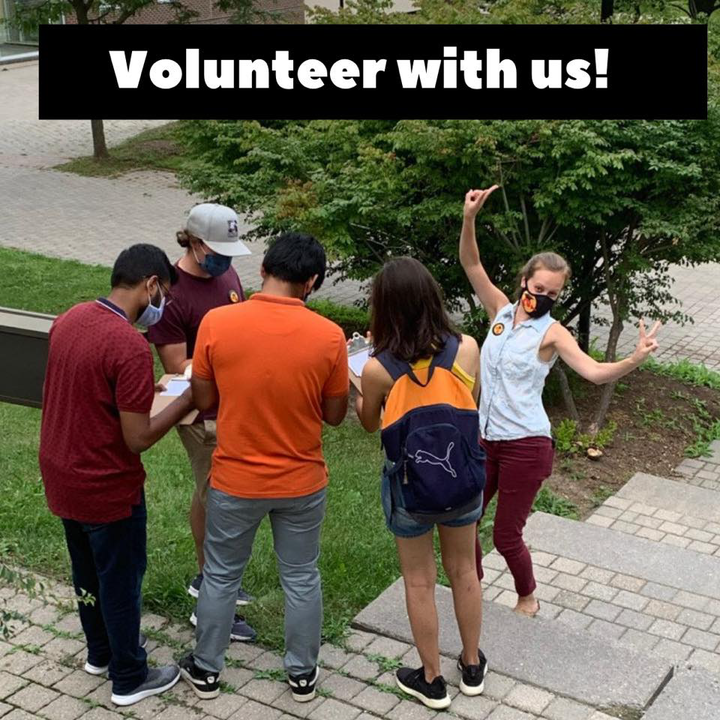 OrganizeUW is a grassroots volunteer group that's grad-student-driven (and goose-inspired), and over time it's grown as more and more workers and other UW community members become engaged. The campaign is led by volunteer organizers who are TAs, RAs, and Sessionals, just like you. CUPE provides strategic, technical, training, and other support to aid worker-led efforts.
Are you ready to take action to make real change in your workplace at UW? To make this happen, each academic worker needs to be informed about the campaign. The only way to achieve this is for supporters to take ownership and help spread the word. Small actions add up in a big way, and everyone can help in one way or another. By working together, you and your colleagues and classmates will help win your future union! Read on to find out some ways, big and small, to get involved!
Why volunteer?
Engaged support from workers is not only key to ensuring the campaign succeeds, it's also vital for laying the groundwork for an active future local that will be an effective advocate for worker rights. People from all walks of life at UW getting involved helps ensure that the union will be inclusive, democratic, representative, and community-oriented. Fundamentally, a union is simply a group of workers just like you who've gotten together to organize for better working conditions; thus, it is only as strong as its members. Broad-based participation and active engagement are the foundation for future success.
Being a volunteer organizer is a great way to meet new friends from across campus. Connecting with others who've experienced similar issues while working and studying at UW has turned out to be an eye-opening experience for many organizers. The feeling when you realize that these struggles are real and that you're not alone in trying to deal with them is powerful. And even though the scale of the issues can seem overwhelming, knowing you're also not alone in wanting to make things better is so important. Together we share resources, ideas, stories, tips, memes, and more.
Please consider joining this new and growing community of TAs, RAs, and Sessionals who share the same core goal – making things better for everyone at UW, and having fun in the process – and are taking action together to reach it. Below is a list of concrete actions you can take now or in the near future to support the campaign.👇
Message us on social media or by email to get started.
Table of Contents
1. Sign a card
Collecting signed cards from 40% of eligible workers is how a union becomes officially certified under Ontario labour law. This is why the core activity of the drive is getting cards signed from people who support forming a union at UW.
Actions
First and foremost, make sure to sign your union membership card, check that it's valid, and keep it active. Some key points depending on where you're at in the process:
| I haven't signed yet⬇️ | I signed recently⬇️ | I signed quite a while ago⬇️ |
| --- | --- | --- |
| Are you eligible? If you're a TA, RA, or Sessional, get your paycheque from UW (no matter the original funding source), and are working now or expect you could be in the next three terms, you qualify! If you're not sure, check out this FAQ on eligibility or contact us to discuss your specific situation. | Did you finish all the steps? Unfortunately, the Labour Board requires using Adobe Sign for signing digital cards, and people often miss the final step of confirming their email address. But without it, the card isn't legally valid. Check out this section in the tutorial or contact us to check if you're not sure. | Has it been over a year? If so, please re-sign your card to keep your membership active and ensure it gets counted when we file for certification at the Labour Board. Unfortunately, the law dictates that signatures on a union card are only valid for 12 months. If you're not sure, you can contact us to check or simply submit a new card. CUPE staff will see any duplicates and replace the older card with the newer one once the first one expires. |
| Not eligible (right now)? You can still help out, we just ask that if you can sign a card, please do so🙂 | Having technical difficulties? Check out this tutorial for step-by-step directions, including screenshots and a video demonstrating how to use Adobe Sign, or contact us for assistance. | Having technical difficulties? Check out this tutorial for step-by-step directions, including screenshots and a video demonstrating how to use Adobe Sign, or contact us for assistance. |
Now it's time to stay in touch!
If you don't already, follow OUW on social media to get updates, including events, news, announcements, and more.
Watch out for the OUW newsletter, which will be sent ~monthly to the email you used to sign up (you can unsubscribe at any time).

Note: Please email us if you wish to manually (re)subscribe.
2. Ask your friends to sign (and their friends too!)
Next to signing your own card, talking to your colleagues directly about the union is the single next biggest thing you can do to help ensure your union gets formed at UW. As of Fall 2020, around 1 in 6 people who sign up go on to get at least one other person to sign too - if this awesome level of engagement continues, you'll be unionized in no time!
Actions
Talk to 2-3 classmates or colleagues about the union and ask them to sign cards

Tip: Start with people who you know well or think are likely to be supportive!
Not really a people person, or don't know anyone you could talk to about the union? No worries, see below for info about other ways to help

If you can, next coordinate with them to sign up more people in your department/school/lab, cohort, or friend group. I.e. make a list of people you know amongst yourselves who may be eligible and arrange meetings to talk to some of them about the union and see if they'll sign. You can refer to this how-to post for info to help get started card-signing. It also includes links to more in-depth info, if needed.
If you feel comfortable, share with people why you support unionization and decided to sign a card (see #3. below)
Need help?
Current volunteer organizers can offer training, resources, advice, answer any questions you get and need help with, and accompany you to meetings to help you get used to talking to people about unionization. Send us a message to get started! That said, if you're independent-minded and want to go it alone, it's totally fine to do that too! If you want to message us to let us know your plan, we can point you in the right direction to do your thing.
3. Spread the word, raise your voice
One of the biggest challenges during COVID-19 has been getting the word out that a union drive is even happening. As we all know, emails about initiatives can be easily missed among all the work and school-related messages grads and sessionals get every day (not to even mention the struggle of just continuing to exist during this ongoing global pandemic). Even when people are aware of the drive, they often only heard about it in passing and don't really know what it's all about. This is where you come in! **Personal connections and conversations are key to helping more TA, RAs, and Sessionals become fully informed about unionization and ready to decide for themselves whether they'd like to sign a card and talk to their connections about signing one too (and so on it goes!).
Actions
Share general info about the union drive with friends and classmates in your network, e.g. on your social media; in a DM, email, or group chat; to an email list; informally at a student club meeting or department social event; during a grad course, study session, or workshop; and more - the possibilities are endless!
Spread the word about an upcoming webinar or event happening in your department/school/lab, or get in touch with us if you want us to organize one in your area
Seek an endorsement from a campus group you're involved with (e.g. departmental/faculty Graduate Student Association).
If you feel comfortable, share with them why you're sending them info about the drive, i.e. why do you support unionization? What workplace issues have you or people in your department faced at UW? How have they impacted you/them? Are some long-standing, but little-discussed or often dismissed by UW? Were you a part of a TA union at a prior university? If so, did you face similar issues? How did having a union help you or other grads in concrete ways?

If you don't feel comfortable sharing your support for the union with people in your network, passing along general info that the drive is happening and/or fostering general conversations about workplace issues (without mentioning the "u" word) are both still very helpful and can make a huge difference! You can also share your experiences and views with us, see #4. below).
Stronger together
When people see that their colleagues support the union and are openly discussing real workplace issues, it spreads awareness, builds solidarity, and helps normalize seeing ourselves as the essential academic workers we actually are; without TAs, RAs, and Sessionals the university would cease to function. It starts to chip away at dominant narratives that everything is perfectly wonderful at UW, so any problems you experience are unique to you and therefore yours to figure out on your own (and if you can't, too bad so sad, you must not have "what it takes" to succeed). Even though in reality, through talking to others – via the union drive and beyond – we know there are many, many issues at UW that are widespread, systemic, and longstanding. Therefore, the first step to changing things is raising your voice. The second step of course, is to organize!
4. Share your thoughts
We want to hear from you!
Actions
Let us know your views on a workplace issue you care about in your department/school/faculty
Share your personal experience at UW, such as problems you've experienced as a student or worker
Submit a testimonial about why you support unionization, how a union at another school helped you, grassroots actions that've been organized to improve working conditions, what unionization means to you, etc.
Talk to us about an important topic in which you have lived experience/expertise, e.g. advocacy for marginalized groups, labour organizing, student movement activism, anti-racism work, etc.
Share your feedback about the campaign - we value all comments and take concerns seriously!
Important: all comments, stories, and testimonials are kept in complete confidence and will never be shared beyond the central organizing team except with your prior consent. We're grateful for all submissions you choose to share.
Knowledge is power
Volunteer organizers have had hundreds of conversations with you - our fellow TAs, RAs, Sessionals, and grads across campuses - about your experiences working and studying at UW. Both eye-opening and enlightening, these discussions have strengthened our collective understanding of the breadth and depth of issues facing us as academic workers at UW, including where challenges are shared, significantly overlap, or are unique to different areas. This has helped us, in turn, to improve the drive as we go, while also setting us up to hit the ground running after certification. Because we'll need to keep the momentum going for the important task of negotiating our first collective agreement; having a prior deep understanding of members' most pressing issues helps ensure they're effectively raised at the bargaining table and increases the chance that the most positively impactful changes will be secured ASAP. Finally, it helps the union community to stay in touch and attuned to the needs of members, through connections forged over many hundreds of conversations over many months.
5. Share your skills
Do you have some time to spare? Even a half hour here and there helps!
Actions
Assist at outreach events and organizing activities:

In-person, e.g. tabling, canvassing at 3rd-party events, door-knocking at TA offices, postering, flyering
Online, e.g. at webinars, town halls, socials, or the weekly drop-in video call

Join the core organizing committee!

Help with aspects of campaign research, strategy, technology, communications, coordinating campus outreach, or event planning
Assist with recruiting, supporting, and training volunteer card-signers and organizers
Note: Planning meetings are currently held weekly at 12-1:30pm on Tuesdays (folks are asked to attend as much as they can)

Join a sub-committee or suggest a new one. Current committees include:

international students
anti-racism and equity
recruiting and card-signing
outdoor/in-person organizing
social media and communications
sessional instructors
Note: Most sub-committees meet for one hour bi-weekly, but it's flexible and each group decides.

Join or form a smaller group of volunteers in a specific department or faculty. They coordinate card-signing amongst themselves in CS, Science, English, Physics, and many more.

There're also many informal internal chat channels volunteers can join to get advice about card-signing, discuss issues at UW like mental health (care), ask tech questions, share updates/events from other groups you're involved with, or just occasionally post random memes, news stories, and cute pet photos 😻🐶🦜🐢

Become a liaison to an on-campus organization, e.g. the GSA, FAUW, WUSA, Fossil Free UW, grad student clubs or associations, etc.
Contribute special skills, e.g. marketing, web or graphic design, translation, editing, data analytics, baking cookies, etc.

Note: Showing up willing and eager to learn and just being an awesome person in general who helps with whatever needs doing is also an amazing "special skill"!

Have an innovative idea for organizing that you don't see us doing, but think we really should be? Please let us know!
Volunteer philosophy
OrganizeUW doesn't set a minimum time commitment that a volunteer needs to make to help with the union drive, because a union is made up of all members/workers. Therefore, everyone who supports unionization at UW is welcome to join and help out with the campaign in whatever way you can. You don't need to be a specialist or have any prior knowledge about OUW or unions to become part of the team (in fact, if you signed a card, you're already part of the movement!)
No contribution is too big or small, and you're in control of how much time you contribute, how you want to communicate with us, and how you help. Our group is flexible and supportive, and we understand that people's workloads shift during the semester. We place a high priority on mental health and wellness, and always support one another to take needed breaks, during a particularly busy week, or with whatever other help someone might need. All we ask is that you complete the tasks you commit to, or ask for help if you need it. Open, respectful communication, mutual support, having an open-mind, and being willing to learn are key to maintaining a welcoming and effective team. We make decisions by consensus after group discussion.
Diversity and inclusion
OUW especially welcomes new volunteers from diverse backgrounds. Our principles and goals for this organizing campaign have been outlined by the OUW Committee for Anti-Racism, Diversity, Equity, and Inclusion and can be found in detail here. We require that all volunteers engage respectfully and maintain the dignity of others in the drive and the UW community, and organizers are constantly seeking to improve our drive and ourselves through education, learning, and listening.
Are you ready to take action today to make things better at UW? Join us! There's no union without you and your coworkers!
Questions?
You can check out the FAQ page about volunteering for more information, and please feel free to reach out to organizers with any questions, concerns, or ideas you may have. We would love to meet you and chat about all things unions, your experiences as a worker, current campaign needs, and what kind of activities might best fit your skills and availability.
Weekly union social (Stammtisch)
Please join us at our weekly "Stammtisch"! You'll make new friends, meet your co-workers and have lots of fun! It's also a great way to meet some of the other organizers and see if you want to volunteer.
The Contact page always has the most current information.
See you there!