Abstract
Join us for a discussion of how anti-racism work and unions work together to create a more just workplace and society, hosted by Organize uWaterloo and CUPE. The webinar will start with presentations of related information and personal experiences and then we will switch to a Q&A panel discussion. A primary aim of the discussion is to envision how our (soon-to-be-formed) local union might engage in anti-racism work through bargaining, activism, and solidarity with ongoing efforts.
Date
Nov 19, 2020 4:00 PM — 5:00 PM
Event
Anti-Racism action and unions
This live event has ended.
Click below to view the recorded webinar via YouTube.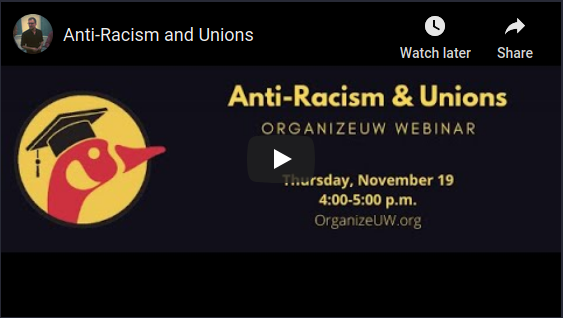 Featuring
Pamela Arancibia, student activist and rank and file member, CUPE Local 3902 (University of Toronto)
Kimalee Phillip, CUPE National Human Rights Representative
Alia Karim, CUPE Researcher and York University student activist
Hadiya Ma, graduate student, University of Waterloo Faculty of Science Anti-Racism Taskforce
Agenda
Introduction to town hall (CUPE Staff)
Union drive introduction (Grad student organizer)
Intro/primer on CUPE and its anti-racism work (Kimalee Phillip)
How anti-racism work plays out on campus through their union (Alia Karim)
UWaterloo Science Anti-Racism Taskforce (Hadiya Ma)
Anti-racism work within CUPE and the membership (Pamela Arancibia)
Short discussion
_Important: Harassment and inappropriate questions of any kind will not be tolerated at any OrganizeUW event. OUW reserves the right to remove anyone who is not participating in a good faith, respectful, manner.**