Abstract
A discussion on unionization with a focus on international student issues. First the guests will give brief remarks identifying workplace issue for international students and outlining the role of unions to address them. Then the floor will be open for discussion, including questions and concerns from audience members. All are welcome!
Date
Jan 21, 2021 5:00 PM — 6:00 PM
Event
International Student Focus - Organize uWaterloo Webinar
This live event has ended.
Click below to view the recorded webinar via YouTube.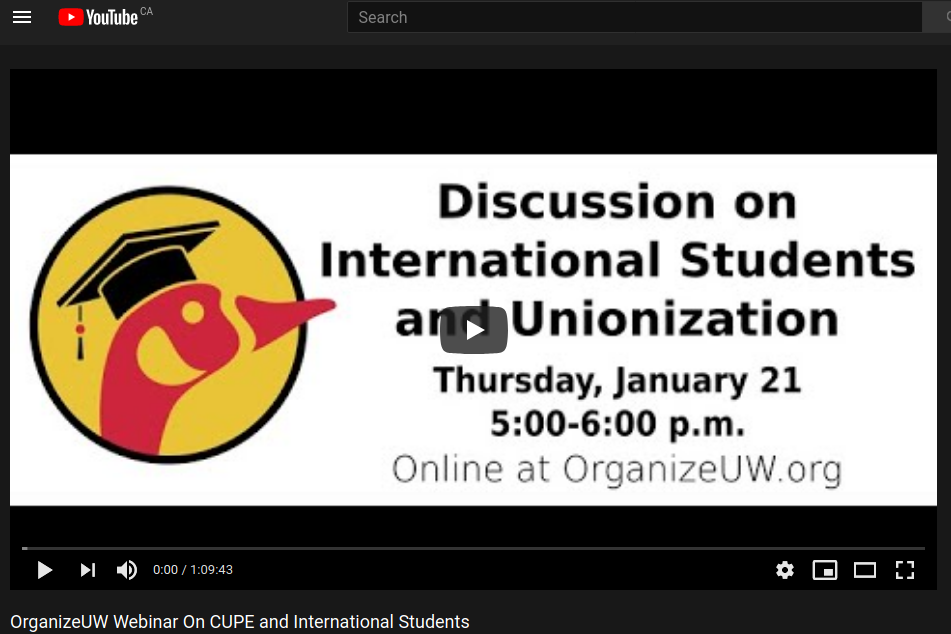 Featuring
Lara El Mekkawi, English department organizer, GSA representative for English
Kelti Cameron, International Solidarity Officer from CUPE
Jorge H. Sanchez-Perez, international graduate student at McMaster University
Jin Sia, Migrant Students United (MSU) representative at UW
Alkım Karaağaç, Geography department organizer
Maria Papageorgiou, Applied Mathematics department organizer
Other international graduate student organizers and supporters
Agenda
Introduction to town hall (moderator)
Introduction to union drive for international students
CUPE and what unions do for international students (CUPE organizer)
Guest Speaker from McMaster University on Unionization and International students
Introduction to Migrant Students United at UW
Open Q&A
International students' testimonials
Open discussion
Bring your questions!