What are the factors that will make it safe to re-open the University of Waterloo campuses? Join OrganizeUW and guests for a discussion of COVID-19 and the realities and best practices for people working on campus today, and as the university looks to a full- or partial reopening in September. What have we learned from experiences at UWaterloo and other universities, and how can we ensure a safe return to in-person study, teaching, and research activity?
This live event has finished.
Click below to view the recorded webinar via YouTube.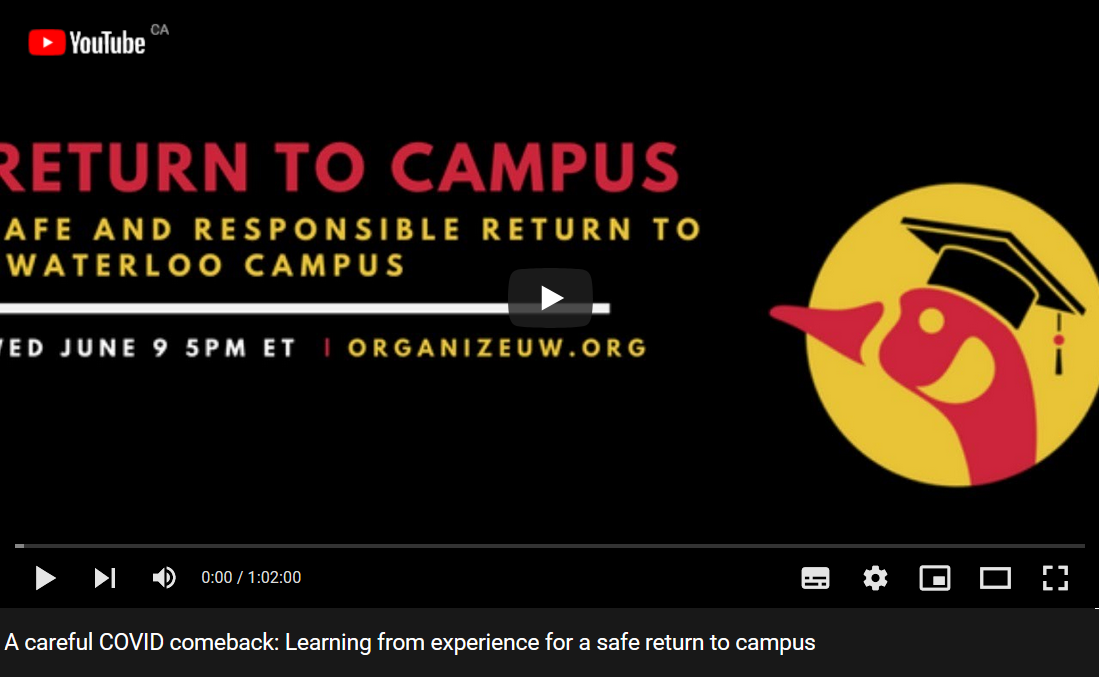 Speakers
Andréane Chénier, MSc, PhD, CRSP
Andréane is an occupational Health and Safety Specialist and a CUPE National Health and Safety Representative. She holds a Master's in Immunology and a PhD in Biomolecular Sciences.
Tey Irrazabal, MSc, PhD
Tay has a Bachelor's in Biochemistry, a Master's in Toxicology and Molecular Diagnostics, and a PhD in Immunology. A postdoctoral fellow in the Department of Medicine at the University of Toronto, she is also Internal Liaison Officer for CUPE 3902 and oversees workers who represent the Local on UofT's Joint Health & Safety Committees (JHSCs).
Sharoni Mitra
Sharoni is a Master's student in Labour Studies at McMaster University in Hamilton and president of CUPE Local 3906, which represents TAs, RAs, sessional instructors, and post-doctoral fellows at McMaster.
Nikolay Videnov
Nik is currently pursuing a Master's in Quantum Information at the Institute for Quantum Computing (IQC) at UWaterloo. As part of his degree work he has been performing in person lab work throughout the pandemic. He also holds a Bachelor's in Chemical Physics from UW and is a graduate student organizer with OrganizeUW.
Sara Marsh, an OUW organizer, will help moderate the discussion and Q&A. Craig Saunders and Graham Cox from CUPE National will be on hand to assist with technical aspects and to serve as resources for any miscellaneous questions around organizing and unions.
Bring your questions! And win swag!
Do you have a question or concern about COVID-19 safety and/or returning to campus at UW? We want to hear from you!
Please submit your question in advance of (or during) the webinar, or use the YouTube live chat during the event.
On the Q&A form you can also choose to enter to win some OrganizeUW swag! (see form for details)
Note: The plan is to record this event for sharing, at the final discretion of panellists/speakers. Names of all attendees/viewers and anyone who submits a question (regardless of method) will be kept anonymous. Please be aware, however, that using the Youtube chat function to submit a question will result in your username being visible to others during the event, and for some time after the live stream has ended. To submit a question completely anonymously, please use the link above.